2013 GMC Acadia Gets Style Upgrade
The 2013 GMC Acadia has been revealed at the Chicago Auto Show. GMC's large SUV will be redesigned for next year with a much more rugged looking exterior that borrows styling cues from the very good looking GMC Terrain.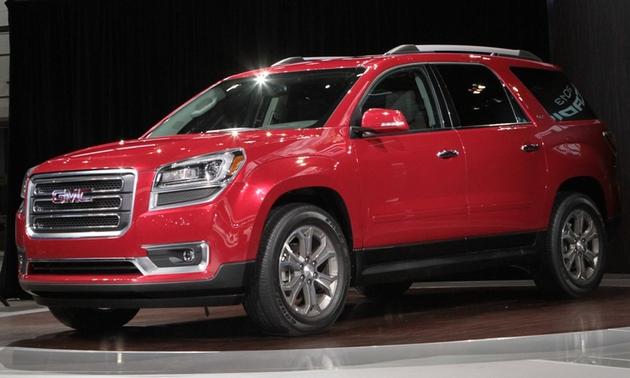 Most crossover SUVs try to look as much like cars as their large size and high ride height will allow, presumably to convince buyers that the car-based SUV is a fuel efficient alternative to the gas guzzling symbol of excess that the turn-of the century SUV is. Taking the route that Dodge pioneered in the 90s with the Ram and nearly every automaker who's sold a truck in the last decade has, GMC is toughening the Acadia's looks for next year. With a giant square grill and oversized squared wheel arches, the Acadia looks like it's ready to haul some concrete cinderblocks. Whether you choose to actually do that is up to you.
Powertrain options for the 2013 GMC Acadia are mostly identical to the 2012 choices, with a 3.6-liter V6 that makes 288-hp and 270 lb-ft of torque. Front-wheel drive and all-wheel drive are available on the 2013 Acadia, and the SUV will be able to tow 5,000 lbs. The only change is a six speed automatic transmission that GMC says will have better response than the outgoing one, according to Autoweek.
Image via Autoweek.