Mercedes AMG E63 – For When Your Wagon Needs Drift
The 2018 Mercedes-AMG E63 S wagon: are veteran wagon drivers waking up to the pleasures of dangerously fast driving, or are race-mode lovers starting to haul more stuff?
According to Mercedes, the AMG wagon will reach 60 mph in 3.4 seconds, with a top speed of 180 mph. Its AMG-tuned all-wheel drive system has a Drift Mode (like the sedan's) that sends all the power to the rear wheels.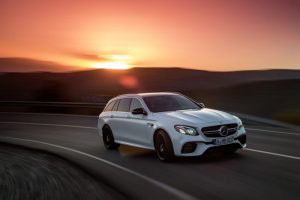 The 4.0-liter, twin-turbo V-8 engine delivers 603 hp and 628 lb-ft of torque, with nine-speed automatic transmission and adjustable adaptive air suspension and damping.
The AMG wagon has five driving modes (including "Race"), speed-sensitive power steering and dynamic engine mounts, wider wheel arches, six-piston brake calipers and available carbon ceramic brakes. Mercedes' Drive Pilot offers semi-autonomous capabilities. The E63 S wagon going to be priced around $100,000.
This is a wagon after all, so you can haul a lot of stuff or people–cargo space is 35 cubic feet (with the rear seats up). Sport seats, an AMG branded steering wheel and an explosion of carbon fiber in the cabin (along with the 603 hp) keep it from being your mom's wagon.
The 2018 Mercedes-AMG E63 S Wagon will debut at the Geneva Motor Show in March and will be for sale in the U.S. later in the year.
source: mercedes-amg.com