2018 Alfa Romeo Stelvio SUV Crossover
Following the trend toward luxury SUVs, Alfa Romeo has come up with a crossover option, the Stelvio, with many of the luxury details and sports handling features that keep it true to its Italian sports car heritage.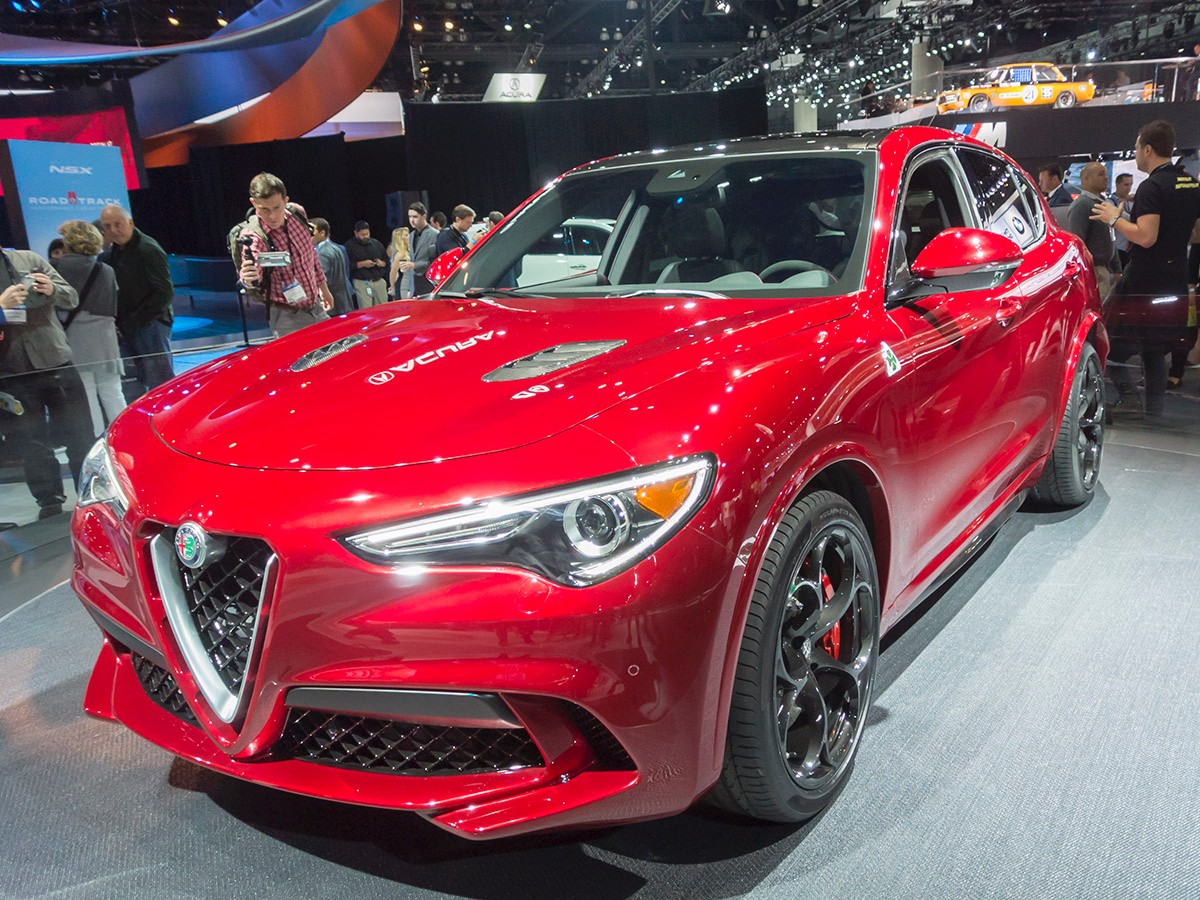 The new five-passenger Alfa Romeo Stelvio SUV is the base model; the Ti trim and the top-of-the-line Quadrifoglio feature a host of upgrades.
The Stelvio and Stelvio Ti will share a 280-horsepower 2.0-liter turbocharged 4-cylinder, while the Quadrifoglio will be powered by a Ferrari-developed 2.9-liter V6 with 505 horsepower. All Stelvio models will be equipped with all-wheel drive and an 8-speed automatic transmission.
The 4-cylinder Stelvio includes 18-inch wheels, leather seating, rearview camera with parking sensors, power liftgate, a flat-bottom sport steering wheel and pushbutton start. The Ti, also 4-cylinder, has 19-inch wheels, wood cabin accents, and a center display.
The longitudinal engine layout similar to that used in rear-drive vehicles. For an SUV the Stelvio has a low center of gravity, "which along with its fully independent suspension, promises sports car-inspired handling." Despite the longitudinal engine installation, the vehicle is FWD.
The Stelvio is named after the Stelvio Pass in the Italian Alps, one of the world's greatest driving roads.
The Quadrifoglio's leather-covered dash and carbon fiber cabin accents fit in with its sport-tuned adaptive suspension, torque vectoring, and performance brakes. All models are equipped with a full-speed forward collision warning that will slow or bring the vehicle to a complete stop, and adaptive cruise control that can come to a full stop. The Stelvio's integrated braking system builds brake pressure more rapidly to improve braking.
Alfa Romeo unveiled the new Stelvio at the 2016 Los Angeles Auto Show. Deliveries of the Stelvio will begin late this year.
Source: kbb.com