301-HP 2013 GMC Terrain Denali Revealed
GMC has revealed the 2013 GMC Terrain Denali, and in addition to the normal luxury accoutrements, GMC's smallest luxury truck will get a 301-hp V6 engine that isn't available on lower trim lines.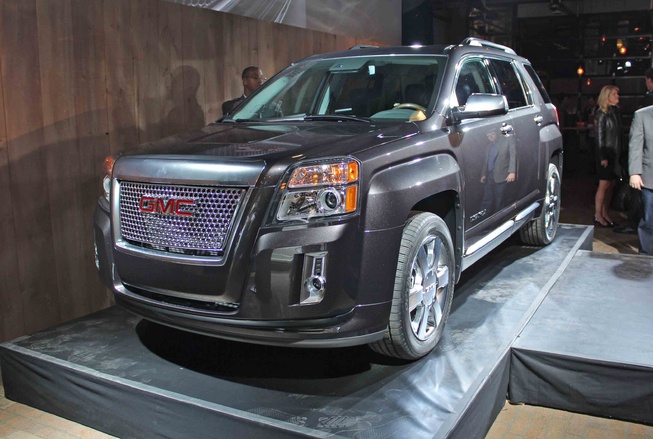 The 2013 GMC Terrain will be powered by a 301-hp 3.6-liter V6 engine, 0.6 liters larger and 37-hp more powerful than the normal Terrain's V6. The new V6 will be rated at the same 17-mpg city, 24-mpg highway with front-wheel drive and 16-mpg city, 23-mpg highway with all-wheel; drive as the 3.0-liter. GMC says that the 3.6-liter will replace the 3.0-liter across all Terrain and Chevrolet Equinox models, but says that the engine will debut in the Terrain Denali, so expect to see the 3.0-liter V6 on lower trim lines until 2014. The 32-mpg, 2.4-liter four-cylinder will also be available on front-wheel drive 2013 Terrain Denalis.
In addition to more horsepower, the 2013 GMC Denali will get a unique grill, unique head and tail lights, monochrome front and rear fascias, monochrome rocker panels, satin chrome molding, dual flow shocks and struts for better handling and a more comfortable ride, a new infotainment system, iPod and Pandora integration, black leather seats and smoked mahogany paneling inside.
Source: Left Lane News.
Image via Left Lane News