Electric Car Charging Stations Make Their Way into Smaller Cities
Lake Oswego, Ore. became the first smaller city near Portland to install an electric car charging station. The station, which opened Thursday, will be free to the public during the introductory stage. The city of Lake Oswego hopes this will encourage more residents to buy plug-in electric cars.
Although the city currently only has one family with a plug-in electric car, it hopes the station will serve as an example to residents and other cities of how easy the technology is to adopt.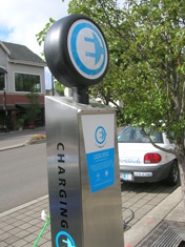 Lake Oswego's first charging station opened this week.
Brian Toye, the owner of the city's lone plug-in car, is proud to be a part of the initiative.
"I still have the only electric car in town," Toye says. "We're there! Now if we can just get other cars coming. All of the excuses for not getting an electric car are going out the window. The arguments against it are not holding water."
The charging station is a part of Lake Oswego's commitment to sustainability and green technology, The Lake Oswego Review reports.
With Chevy releasing the electric Volt in 2010 and many other automakers embracing plug-in cars as the future, Lake Oswego's success with the project will be a model for any small city looking to encourage electric cars.

Photo via The Lake Oswego Review.