Ford Rethinks Bringing Small Ka Car to the U.S.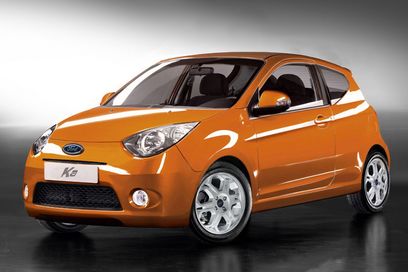 People in the U.S. want smaller, more fuel-efficient cars, like the ones manufacturers sell in Europe and other countries. This demand has caused Ford to rethink its decision not to sell its compact Ka car in the U.S., Ford CEO Alan Mulally said Monday.
A new version of the Ka was shown last week at the Paris Motor Show, with plans to launch it in Europe late this year or early next year. The Ka is much smaller than the Ford Focus, which is Ford's only compact car right now in the U.S. Focus sales are up 24 percent through September.
The only competing vehicle the size of a Ka in the U.S. is the popular Smart Fortwo. Smart has sold 18,156 Fortwo's through September,
reports the AP
. There is usually a waiting list to get one, just like the Prius and Mini Cooper.
If the demand is there, Ford should consider bringing the Ka here. It could help the company recoup some of its losses from not being able to sell as many trucks and SUVs, once big profit generators for Ford.
Photo via autoexpress.co.uk.