Isuzu Throws In the Towel
If you were planning to buy a new Isuzu, this is your last chance. The company has announced that on January 31, it will stop selling its light-duty vehicles. Isuzu will continue to sell heavy-duty commercial vehicles, and will continue to provide service and support for all Isuzu models. All warranties and roadside assistance programs on Isuzu vehicles will be honored.
Isuzu vehicles have been sold in America since 1972, when the Chevrolet LUV went on sale. The LUV was a rebadged Isuzu truck imported because Chevy saw the need for a small pickup but had not developed one of its own. In 1982, Isuzu began selling vehicles in America under its own name. The first Isuzu to go on sale was the Isuzu P'UP, a small pickup.
Some of Isuzu's most recognizable vehicles were the Amigo, a competitor of the Jeep Wrangler, and the Vehicross. Isuzu's Vehicross was a small SUV that combined futuristic styling with off-road racing ability.
Isuzu's lineup of vehicles has shrunk to just two rebadged GM models. The Ascender is a carbon copy of the GMC Envoy and Chevy Equinox. The Isuzu i-series pickup trucks are identical to the GMC Canyon and Chevy Colorado.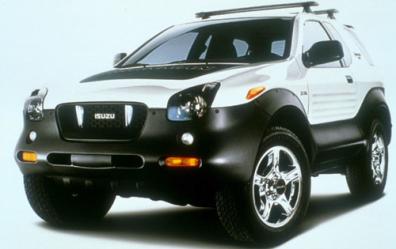 An Isuzu Vehicross.
Image via edmunds.com.