Mini Gives us a Preview of its SUV Concept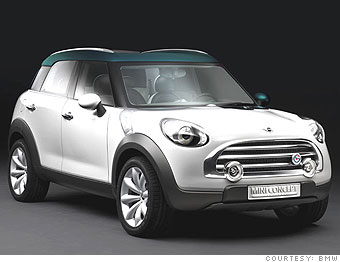 Mini is making an SUV? The brand is highly successful and their Cooper small car is a hot commodity right now amid high gas prices. So why not make more models?
Technically, it will be a crossover SUV and is being called the Mini Crossover Concept. Northerners will like that the SUV will have four-wheel drive, a big help when driving in the snow.
The Crossover Concept is the biggest Mini yet, measuring more than four meters long,
reports Cars.com
. The length will be slightly longer than the Mini Cooper Clubman, but still about 20 inches shorter than a Honda Civic sedan.
While the Concept is small, it looks like it will offer several options to arrange the seats to accommodate cargo. There is also a futuristic, bubble-like globe of a touch display screen for navigation and other high-tech purposes. There's nothing like a fun distraction while you're driving!
No details about the engine or mileage have been released yet. Considering Mini's Cooper and Cooper Clubman get great gas mileage, hopefully Mini carries those same gas-sipping details over to the Crossover Concept. Cars.com reports that it could be on the auto show circuit in 2009.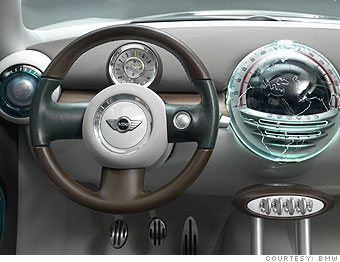 Photo via cars.com.
Photo via cars.com.