New Chevrolet Camaro Enters the Muscle Car Competition
GM will start building the 2010 Chevrolet Camaro today at its Oshawa Car Assembly plant in Canada. When the Camaro rolls off the assembly line, it will join its rivals, the Dodge Challenger and Ford Mustang, in a three-way muscle car competition.
The three vehicles haven't been sold at the same time as new models since 1974. Chevrolet says it has already sold 14,000 of the fifth-generation muscle car,
reports the Detroit News
. The Camaro was discontinued in 2002 and reintroduced as a concept vehicle in 2006 at the Detroit auto show.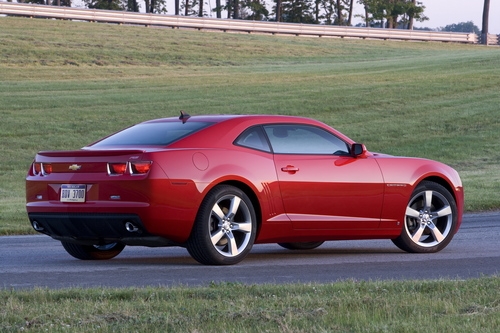 Ford will launch redesigned 2010 Mustangs from its assembly plant in Flat Rock later this month, and Dodge will introduce new retro colors such as B-5 blue for Challengers built at the Brampton Assembly Plant in Ontario.
All three new muscle cars are undoubtedly head-turners. But how much demand is there for the redesigned cars? Will drivers who owned one back in the 70s want the new version? Maybe 20 and 30-somethings will appreciate the sporty muscle cars as well.
Image via The Detroit News.