Small Cars Cost Big Bucks to Repair
Mini and microcars are good choices for urban driving because their small size makes them easy to maneuver through crowded streets and park in tiny spaces. Small cars are also appealing because of their low price. That low initial cost might be deceiving though, the Insurance Institute for Highway Safety recently tested seven mini and microcars in low speed tests and found them lacking.
Of the seven cars tested, only the smart fortwo was rated "acceptable". The Chevrolet Aveo earned a "marginal" rating, while the Honda Fit, Hyundai Accent, Kis Rio, Mini Cooper and Toyota Yaris were all rated "poor".
The tests were designed to simulate fender benders, low speed accidents that make up the majority of insurance claims filed daily in America. In these accidents, the bumper of the car should take all the damage while preserving expensive items like other body panels, grills, hoods and lights. The IIHS found that the bumpers of most of the cars tested didn't protect the rest of the car from damage.
These expensive repairs mean higher insurance costs for the small cars. Monthly Insurance costs can sometimes rival car loan payments. New car buyers that are sucked in by low prices and low monthly payments might find out that their small cars are more expensive than they first thought.
The smart fortwo earned the best rating in the group because its body panels are pre-painted and much smaller than other cars. Instead of one body panel for the entire rear of the car that needs to be replaced if damaged, the smart fortwo's front and rear bumpers are made up of three separate panels that can be replaced individually.
The IIHS points out that these carmakers all know how to make quality bumpers that will hold up better in low speed crashes, but those better bumpers would add to the cost of the car, which could hurt sales with customers who don't understand the need.
Bumper performance in low-speed crash tests:
VEHICLE REPAIR COSTS
Rating
Front
full
Front
corner
Rear
full
Rear
corner
WEIGHTED
AVERAGE
Smart Fortwo
ACCEPTABLE
$1,480
$663
$631
$507
$899
Chevrolet Aveo
MARGINAL
$1,071
$1,437
$1,370
$612
$1,155
Mini Cooper
POOR
$2,291
$2,637
$929
$743
$1,637
Toyota Yaris
POOR
$1,688
$1,167
$3,345
$474
$1,951
Honda Fit
POOR
$1,124
$1,216
$3,648
$999
$1,960
Hyundai Accent
POOR
$3,476
$839
$2,057
$831
$2,123
Kia Rio
POOR
$3,701
$1,758
$3,148
$773
$2,705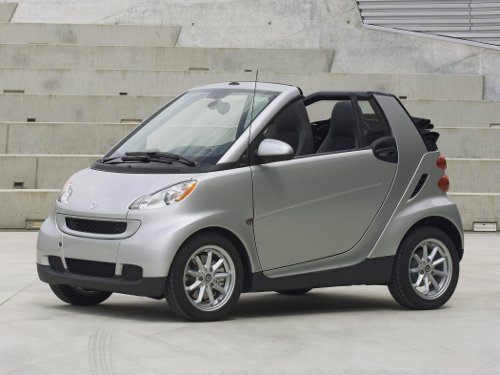 The smart fortwo had the cheapest repairs for low speed accidents in the minicar segment.
Table via IIHS.