Tesla Announces $35,000 Model III
If you, like, love the environment but still need to drive a new car with a luxury nameplate that looks good parked outside Wholefoods, Tesla has just the car for you. The $35,000 Model III will have a 200 mile range and should have performance comparable to the competing luxury cars.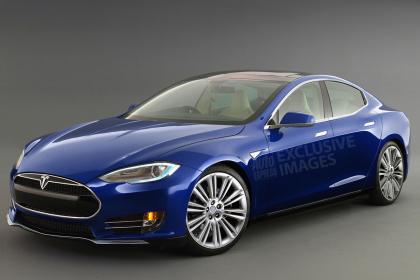 The Tesla Model III will compete with the BMW 3-Series, Mercedes-Benz C-Class, Lexus IS, Infiniti Q50, Audi A4 and more in the crowded and competitive midsized luxury segment. The Tesla will have something those other luxury cars don't though that will probably help it sell to the image conscious: eco cred.
The ENTIRE yoga class is going to be like 'what is that' when you roll up to the weekly girls-go-for-coffee-after-the-gym in your new Tesla III. Even Ashley with the new Range Rover Evoque is going to be so jealous of your new eco car.
A $35,000 purely electric car that packs the performance and range that Tesla is promising is impressive to the point that it has probably engendered some skepticism from observant readers. That's the same price as the Chevy Volt, which has a 38 mile electric range. The key to Tesla's unbelievable price point on the Model III will be the company's new Gigafactory that will produce batteries not only for Tesla cars but also other EVs.
Source: Auto Express