Without Bailout, NASCAR Could be in Trouble
NASCAR is America's most popular spectator sport. Love it or hate it, the sport is a very important piece of America's economy. Companies spend millions of dollars to advertise with NASCAR and see real results from those ads.
NASCAR might be in trouble though. According to FOX News, if the Detroit Three's bailout falls through and one or more of the companies goes under, NASCAR could be next.
As much as 90% of a NASCAR team's funding comes from advertising and sponsorships. Car manufacturers pay to have their logo and body-style used by teams, and NASCAR's starting grids are primarily populated by American vehicles. If one of the Detroit Three goes under, it could lead to massive cuts in NASCAR sponsorships. Teams are already combining forces this year because of a drop in sponsorships. Further cuts could mean the end for the sport as we know it.
NASCAR stars including Jeff Gordon and Jimmie Johnson have publicly urged their fans to contact Congress in support of the $25 billion loan package.
"We're optimistic that Congress will help support the automakers and help them get through this very difficult time," Andrew Giangola, Director of Business Communications for NASCAR, says.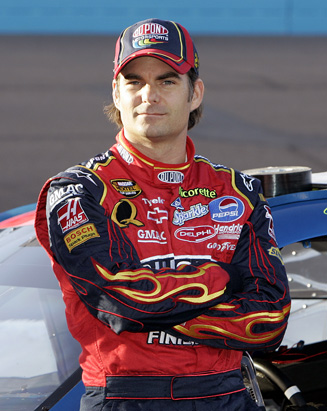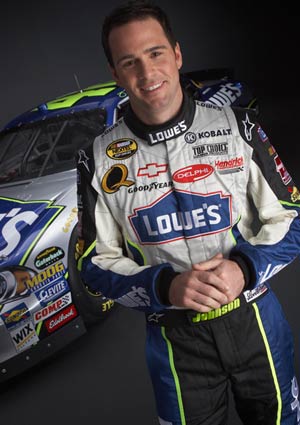 Jeff Gordon (left) and Jimmie Johnson (right) are teammates and rivals on the track, but both agree that a loan for U.S. automakers is best for NASCAR and America.
Jeff Gordon's picture via The Boston Herald. Jimmie Johnson's picture via Lowesracing.com