2012 Mazda MX-5 Special Edition Adds Style to the Sports Car
The Mazda MX-5 is a great car. It's a modern version of the classic British sports car with a two seater rear wheel drive lightweight design, handling to satisfy anyone's desires and enough power to make the uphill side of a mountain road as much fun as the downhill side. There is one place where the MX-5 Miata has a failing though: style. The MX-5 Miata is a good looking car, but its appeal has always been more on the cute side. With the Mini Cooper Convertible in the same price range, image conscious small convertible buyers have a pretty easy choice.
That choice just got a little bit harder.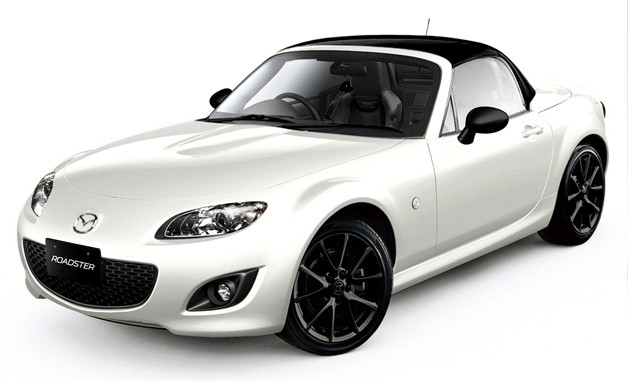 The 2012 Mazda MX-5 Special Edition is a much more elegant package than the standard MX-5. The Special Edition takes a top-of-the-line Grand Touring MX-5 and adds a black retractable hard top, new 17-inch gunmetal wheels, a piano black interior with heated leather seats and black exterior accents. Also available are two unique color choices: a white and a red. Premium and Suspension packages that are normally optional are included in the MX-5 Special Edition, meaning the car is loaded with not just comfort features like Bluetooth connectivity and a satellite radio, but also a performance suspension with Bilstein shocks, according to Autoblog.
Mazda will officially unveil the 2012 MX-5 Special Edition at the Chicago Auto Show next week and will announce pricing then.
Image via Autoblog.