2013 Cadillac XTS Revealed in Production Trim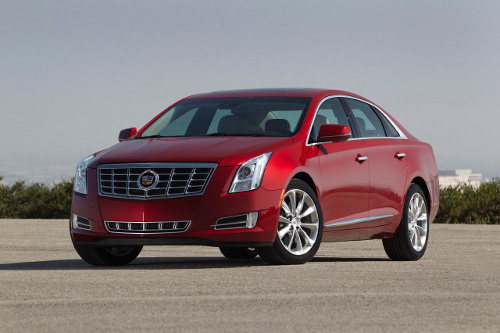 Cadillac has released photos of the 2013 XTS in production-ready form. The 2013 XSTS will looks a lot more like a larger version of the CTS than a remake of the STS or DTS that it will be replacing. The XTS will be smaller than the now deceased STS and DTS, but larger than a typical midsize luxury car like the BMW 5-Series and Audi A6. The XTS will also have a massive trunk, even larger than the Audi A8L's.
The 2013 Cadillac XTS will have 40 inches of rear leg room, comparable to the Mercedes-Benz S-Class with 42.3 inches and much larger than the BMW 5-Series or Mercedes E-Class. XTS models will come with Cadillac's CUE infotainment system, which has a massive 12.3-inch display. Besides being a ridiculous addition to the interior of the car, purple stitching on the leather seats in the 2013 XTS will give you something to point out to your German driving friends that they can't one-up. And let's be honest, if you're buying an XTS you probably have a friend with a German luxury sedan who you're constantly locked in a debate with.
The XTS will come with a 300-hp 3.6-liter V6 engine standard. Don't be surprised to hear in the near future that Cadillac has added a turbocharger to the V6 to silence some of the complaints about the lack of a V8. Something nobody will complain about is the suspension. With GM's HiPer struts and Magnetic Ride Control, the XTS should be able to compete with the Germans on a race track, even though it has front-wheel drive standard. The XTS will have the option of all-wheel drive, but it remains to be seen if that will be a legitimate performance upgrade or just a useful add-on for snowy climates. Brembo branded brakes all around the XTS help with its race track cred.
Source: AutoBlog
Image via Autoblog.