2013 Hyundai Accent Price Jumps by $2,000, Now Starts at $15,320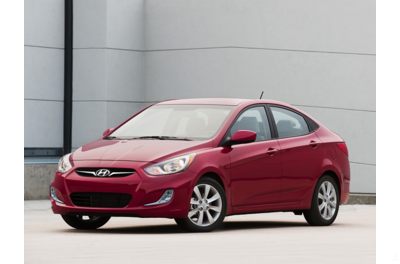 The 2013 Hyundai Accent will start at $15,320, including delivery fee. That's an increase of $2,000 over the 2012 Accent.
The Hyundai Accent Sedan moves from one of the cheapest cars you can buy to being undercut by the 2012 Nissan Versa, 2012 Chevy Sonic, 2013 Nissan Versa and 2013 Ford Fiesta. The Accent's price jump is accounted for with standard features that were extra cost options in 2012. Air conditioning, a six speaker stereo, heated side mirrors and keyless entry are all now standard on the 2013 Hyundai Accent, according to US News.
A few years ago, the Hyundai Accent made headlines thanks to its starting price under $10,000. When Nissan dropped the Versa's price to just under the Accent's, it looked like we might be looking at a race to the bottom that would result in cheap, reasonably reliable cars tailor made for city driving, low income families and young people who don't need or want to pay for comfort features. When that magic $10,000 price point didn't turn into massive profits for the companies (people who don't care about the latest luxury features tend to buy used, where the depreciation and initial buy-in are both lower), the cost of the Accent and the Versa rose. Now the Accent will get another price hike, out of the cheapest car competition and into the high end of the small car pack, a place more fitting for a company with luxury aspirations like Hyundai.