2013 Subaru Impreza XV Crosstrek To Be Unveiled at NY Auto Show
The 2013 Subaru Impreza XV Crosstrek will debut at the New York Auto Show next month. Subaru had teased the possibility of a more off-road ready Impreza to replace the Outback Sport, and now it looks like the XV Crosstrek will be on sale this fall.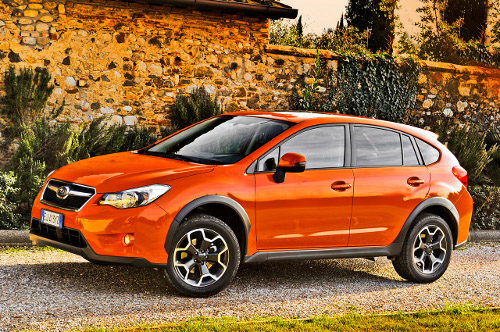 The 2013 Subaru Impreza XV Crosstrek will be a huge step from the 2011 Outback Sport, adding a suspension lift along with larger tires like the Outback Sport, but with more ground clearance and more mainstream crossover look than the beige-on green Outback Sport had. The 2013 Impreza Crosstrek will have black plastic molding that wasn't present on the concept vehicle (shown above) to set it apart from the standard Impreza, according to Autoblog.
Subaru's new 2.0-liter 148-horsepower four-cylinder will be the only engine available in the Impreza Crosstrek, but can be selected with either a five-speed manual or an automatic transmission. The 2.0-liter engine means the Corsstrek will almost definitely get outrun by a 170-hp Outback Sport, but the flipside of that smaller, less powerful engine is a 33-mpg highway fuel economy rating. Good enough to make the 2013 XV Crosstrek the most fuel efficient all-wheel drive crossover available. Besides, anyone with a real speed craving would just buy the WRX.
Image via Autoblog.