2014 Chevy Silverado Will Be the Most Fuel Efficient Full-Sized V8 Pickup Truck
The 2014 Chevy Silverado and GMC Sierra will be the most fuel efficient full sized V8 pickup trucks when they go on sale later this spring. The Silverado and Sierra will get 23-mpg highway in two-wheel drive form with the 5.3-liter V8 engine. GM has also announced the starting price of the Silverado at under $25,000.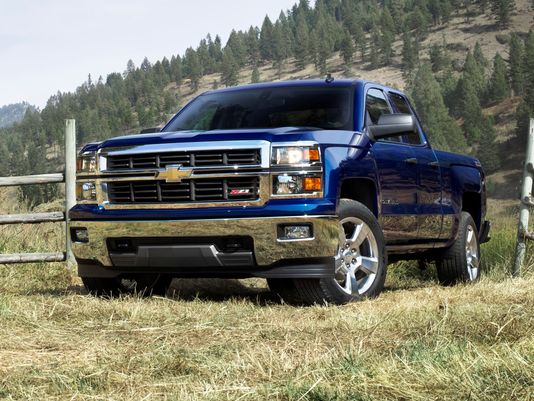 At launch, the 2014 Chevy Silverado and 2014 GMC Sierra will be powered by an updated version of the 5.3-liter V8 engine with 355-hp and 383 lb-ft of torque (numbers reminiscent of famous small block Chevy engine sizes that I'm sure GM's marketing department had something to do with). The 5.3-powered Silverado and Sierra will get 16-mpg city and 23-mpg highway with two-wheel drive and 16-mpg city and 22-mpg highway with four-wheel drive.
GM's 6.2-liter V8 and 4.3-liter V6 engines will be available later this year in the Silverado and Sierra. Expect the V6 to beat the smaller engines from Ram and Ford, though GM will have to do something special to beat the upcoming Ram 1500 Diesel. The Sierra will cost at least $500 more than the Silverado, and for that extra half-stack, buyers will get projector headlights, chrome trim on the grill and bumpers, upper cargo bed tie down hooks and cloth seats.
USA Today claims that the GM pickup trucks will be the most fuel efficient large trucks, but that's not actually true. The Chevy Silverado and GMC Sierra twins will beat the V8 powered Ford F-150, Ram 1500, Nissan Titan and Toyota Tundra, but not the 18-mpg city, 25-mpg highway Ram 1500 V6 or the 17-mpg city, 23-mpg highway Ford F-150 V6.