2015 Chevy Silverado 2500 & 3500 Will Get CNG-Gasoline Bi-fuel Option
The 2015 Chevy Silverado 2500 and 3500 HD models will get the option to run on both gasoline and Compressed Natural Gas (CNG). The redesigned 2015 Silverado 2500 and 3500 trucks will come with an optional 6.0-liter bi-fuel engine with hardened valves and valve seats so that it can run CNG in addition to gasoline. Every cab and bed configuration will be available with the CNG option and according to Autoweek the trucks will have a range of over 650 miles.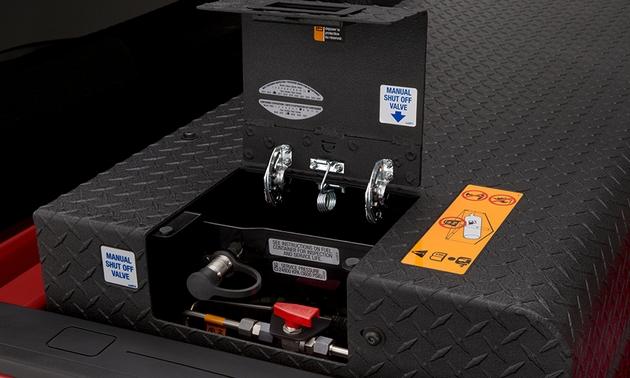 The 6.0-liter engine will make 360-horsepower and 380 lb-ft of torque on gasoline and 301-hp, 333 lb-ft of torque on CNG. That power loss means less towing capability and worse acceleration, but the tradeoff is cheaper running cost. Chevy says that running on CNG 75% of the time over 26,000 miles will save $2,000, which is a dollar every 13 miles.
The natural gas tank will be located in the bed behind the truck's cab, so it will reduce bed space and take up the spot normally reserved for a tool box. It doesn't look like there is any need to access the bed-facing portion of the tank so there should still be a spot for a tool box.
The bi-fuel Silverado 2500 and 3500 will have a manual switch to change from gasoline to CNG, then will automatically switch back once the CNG tank is empty.
Image via Autoweek.