2015 Hyundai Sonata Price Drops $300 But 2014 Model Is a Better Buy Right Now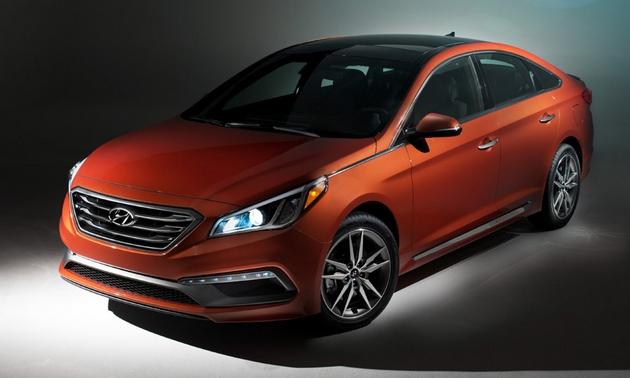 Hyundai has dropped the starting price of the 2015 Hyundai Sonata by $300, down to $21,150, but don't wait on the new model if saving money is your goal. With the 2015 model just around the corner (it should be on dealer lots during June) the 2014 Sonata is a great deal with huge incentives.
Hyundai is offering a 0% interest rate auto loan incentive on the 2014 Sonata for 72 months. If you bought a base 2014 Sonata GLS and financed with the no interest incentive for 72 months, your monthly payments would be $297.92. If you financed a base 2015 Sonata with a 72 month loan at 5%, your monthly payments would be $340.26 and you would pay $3,048.72 more over the course of the loan.
The higher trim levels of the 2014 Sonata are an even bigger savings. In addition to an extra 29-horsepower (274-hp in the 2014 model vs 245-hp for 2015), financing a 2014 Hyundai Sonata 2.0t limited with the 0%, 72-month financing incentive compared to a $300 less expensive 2015 with a 5% car loan for 72 months will save you $4,336 and $60 per month.
So while the newly redesigned 2015 Sonata might look better (depending on your personal preference for flame surfacing, which the older model has in abundance), get better gas mileage (supposedly, Hyundai hasn't released official ratings yet), and probably have better resale value (unless you're selling to someone who appreciates the extra 30 horsepower in the 2014 turbo model), the 2014 is a better buy with the impressive car loan incentives Hyundai is offering.
Source: Autoweek.