38-MPG 2013 Nissan Altima Unveiled at New York Auto Show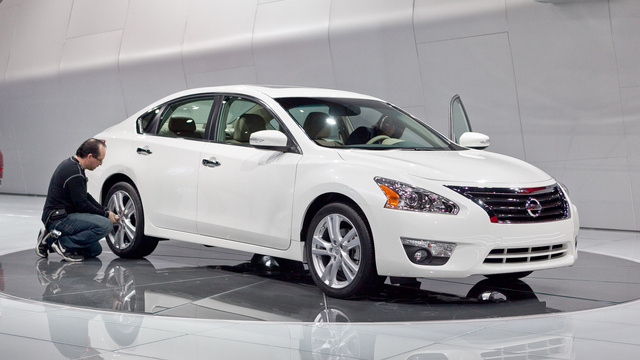 After months of ridiculous teaser images, Nissan has finally revealed the 2013 Altima. The 2013 Nissan Altima will borrow some styling cues, namely the angular bend in the grill and the associated headlight shape, from the Lexus GS. Mimicking the Lexus' styling is a smooth move for Nissan, why bother with a radical styling change when you know there's a neat feature that already works out there? Plus it makes the Nissan look more upscale than the Camry that actually shares a little bit of DNA with the Lexus.
The 2013 Nissan Altima will be the lightest midsize sedan you can buy next year, weighing in at 3,100 lbs (the same as a 2012 Sentra SE-R) with a four-cylinder engine. That four-cylinder will be 2.5-liters in displacement, will make 182-hp and will get a very impressive 38-mpg highway, according to Jalopnik. The Altima V6 will get a 270-hp V6 engine. Both engines will be fitted to CVT.
Starting prices for the Altima four-cylinder and V6 are $21,500 and $25,360.
A note to car companies: can we all agree to 86 the teaser shots? They might drum up some excitement for a supercar like the Viper, which was also recently unveiled, but for a midsize sedan, even the lightest midsize sedan you can buy, it's just annoying. Actually, it's just annoying for supercars, so really please stop.