2013 Toyota Avalon Aims for Sportiness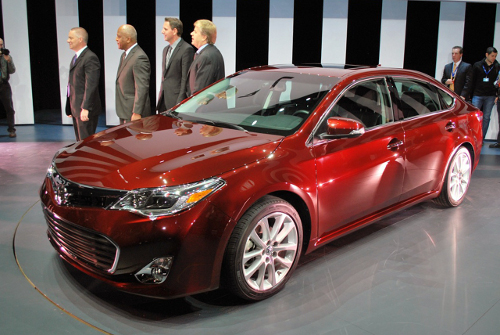 Yes, you read that right, Toyota is claiming that the new 2013 Avalon will be a sporty large car. Don't expect the 2013 Avalon to run with an M5, but a 240-hp 528i or even a 300-hp 535i is certainly within its grasp. In fact, the Avalon will definitely beat the 528i on power and should at least come very close to matching the 535i. Toyota hasn't released power figures for the 2013 Avalon, but the 2012 model gets 268-hp so it's not out of the realm of possibility for Toyota to bump that to the magic 300-hp number.
Toyota has added a sport mode to the 2013 Avalon that increases throttle response and weights the steering wheel for a more aggressive driving feel. Toyota also increased the Avalon's structural rigidity, upped the front spring rate and stiffened the front and rear sway bars.
Of course most buyers of the Toyota Avalon aren't concerned with sportiness, so Toyota also upped the level of luxury in its largest car. The 2013 Avalon has a slew of little tweaks to make the cabin feel more spacious without adding much to the exterior dimensions – I guess you can have your cake and eat it too. Toyota has also reduced road and wind noise on the 2013 Avalon, adding to the luxuriousness of the cabin. Of course the Avalon has acres of leather and wood trim inside and a high end audio system too.
Source: Autoblog.
Image via Autoblog.