50th Anniversary Ford Mustang Revealed at New York Auto Show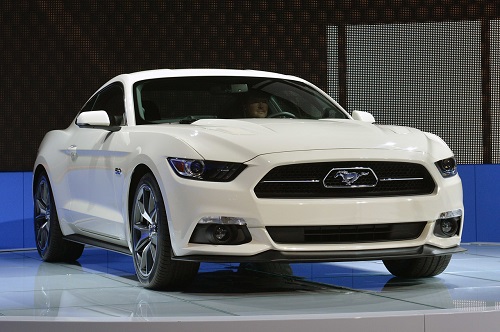 The Ford Mustang was first revealed to the public 50 years ago at the 1964 World's Fair in New York City, so the 2014 New York Auto Show is a fitting place to reveal the limited edition 50 Year Anniversary Mustang.
Ford will sell one thousand nine hundred and sixty four (1964, in case you didn't pick up on that) of the 50 Year Limited Edition Mustangs. The special limited edition Mustangs will all be GT models with the Performance Package, complete with Brembo front brakes, 19-inch wheels and high performance tires (this will be the first time the Performance Package is offered on automatic transmission Mustangs).
The 2015 Mustang 50 Year Limited Edition will also get unique rear window louvers, chrome headlights, a fake gas cap badge on the trunk, a leather with cashmere stitching steering wheel, instrument panel, shifter boot, arm rest, door inserts and seats. The only options on the 2015 Mustang 50 Year Limited Edition will be color (Wimbledon White shown above or Kona Blue) and transmission (six-speed automatic or six-speed manual).
Source: Autoblog.