Aston Martin V12 Vantage – Cooler Than James Bond
Aston Martin has allowed Autoexpress a sneak peek at its upcoming V12 Vantage supercar. Aston will officially debut the V12 Vantage at the Geneva Motor Show next month, but we have pictures of the bodacious British beauty below.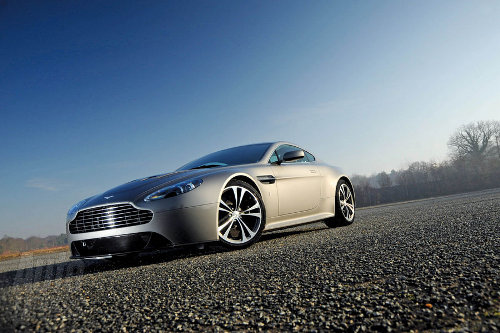 The Aston Martin V12 Vantage is powered by… you guessed it, a V12 engine! More specifically, the Vantage gets a version of the 6.0 liter V12 found in the DB9 and DBS. The Vantage's engine will put out 510 hp and 420 ft-lbs of torque, 90 hp more than the standard V8 Vantage. This monster of an engine is mated to a six-speed manual transmission and brings the car 0-60 mph in just 4.1 seconds and gives it a top speed of 190 mph.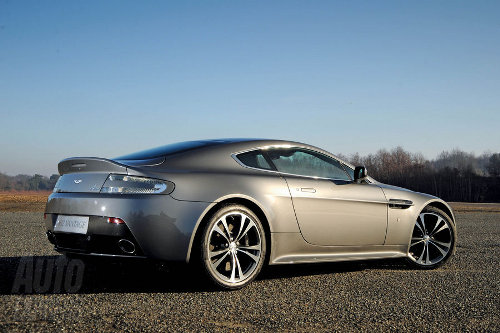 The extra four cylinders in the V12 engine weight 220 lbs more than the V8 found in normal Vantage models. A slew of lightweight parts bring the car's total weight to just 50 lbs more than the V8 model. Some of those lightweight parts include carbon-ceramic brakes, lightweight body panels, and race seats made of Kevlar and carbon fiber. Suspension modifications and super wide tires combine to give the V12 Vantage 1.3G of cornering force, which means the V12 Vantage should have the lap times to back up its race car looks.
The hotrod Vantage will compete with the Porsche 911 GT2 and the Ferrari F430 Scuderia in the super-high-end-race-cars-just-barely-legal-for-the-road section of the market. Like its German and Italian competition, the Aston will end up in more posters on the walls of garages and dorm rooms than driveways. The V12 Vantage will cost £140,000, which is about $200,000 U.S. No word on whether the V12 Vantage will make it to America, but Aston is only planning on Manufacturing 1,000 V12 Vantage models, so it will be very exclusive either way.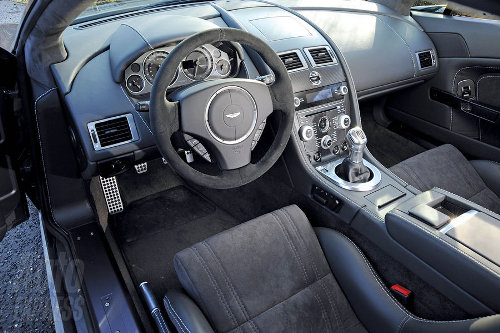 Images Via Autoexpress.co.uk