Shoppers Can Now Buy a New Kia on eBay
If you want to buy a new Kia, you don't have to leave your house anymore. Through a new program by Kia Motors America and eBay Motors, shoppers can browse new Kia inventory online and make an offer to buy a new Kia.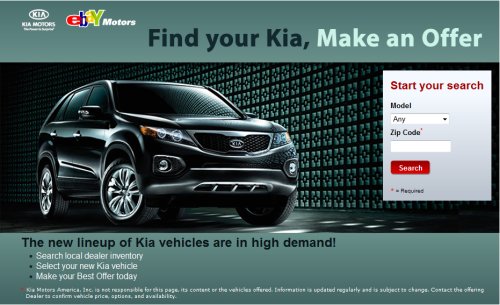 The program, which is available nationwide with more than 345 participating Kia dealerships, allows car shoppers to search new Kia vehicle inventory online at kia.ebay.com. Shoppers type in their zip code and the vehicle they're searching for and receive a list of results. The vehicle results can be sorted by distance or price. Each vehicle's information, specs, photos, warranty and options are listed on the site.
If shoppers find the vehicle they want to buy, they can bid online through eBay Motors. Shoppers can also email the seller (dealer) to schedule a test drive or ask about any auto loan or lease incentives on that vehicle. Once the shopper makes an offer and bids on the vehicle and the dealer accepts, payment arrangements and delivery of the vehicle is then arranged directly with that dealer.
"eBay Motors' large, multi-dimensional marketplace aligns perfectly with Kia's rapidly expanding brand and offers consumers a comprehensive and convenient shopping experience for our entire new vehicle lineup," said Tom Loveless, vice president of sales, KMA. "The program already has proven to be popular with our dealers with nearly 50 percent of Kia dealerships signing on for the program in just two weeks' time, and more and more signing on every day. Attracting vast online audiences to Kia through a pleasant online purchasing experience furthers Kia Motors' sales and marketing strategies."