Can't Make Your Car Payment? Just WALKAWAY
Say you're a responsible car buyer. You bought within your means. Your payment is only 20 percent of your income. You're up to date on your payments. You've done everything right. But now, due to no fault of your own, your job has been cut, leaving you with no way to pay your car loan. What do you do now?
Unfortunately, this is the predicament many Americans are finding themselves in. Unemployed with a car payment, there aren't many options. Most people owe more on their car than it's worth, so just selling the vehicle will leave them with no transportation and the remainder of the debt. This is not a great situation. You've worked hard to build and maintain your credit, so repossession is out of the question. So what can you do?
A new program is being introduced in America that will provide an answer for consumers facing this tough decision. The WALKAWAY program allows you to return your car if you lose your income. With WALKAWAY protection, the dealership will buy your car back, and if you owe more money than the car is worth, the program will cover the difference. Although the program is not yet offered nationwide, it will be soon.
Dealerships often get calls from customers saying, "I can't make my payment, what do I do?" Now with the WALKAWAY program, the dealers can just say, "bring the car back."
Many people are afraid to take out a long-term car loan because they're uncertain about their employment future. With news of more job cuts coming every day, it makes sense to be cautious. With the WALKAWAY program, you can buy a car without the fear of what will happen if you're suddenly unemployed.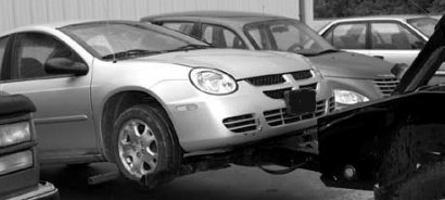 The WALKAWAY program can help buyers avoid repossession.
Why do dealers offer this?
Typical car buyers are upside down on their car loan from the beginning, either due to the lack of a down payment or trading in a car with negative equity. Because so many buyers have car loans larger than the value of their car, the WALKAWAY program can provide peace of mind during uncertain times.
"The perceived value of the product is greater than the actual cost," says Jeff Beaver, senior vice president of marketing and product development for
EFG Companies
(the parent company that sells WALKAWAY).
In many cases, according to Beaver, customers who return their car will turn around and buy a less expensive model from the same dealership.
"People still have to drive," Beaver says, and since they've been helped through a tough time by the dealership, they will remain loyal.
If the WALKAWAY program sounds familiar, it's because it's currently being sold nationwide in the form of
Hyundai's Assurance
program. All new Hyundai vehicles now come with one year of complimentary coverage.
What does WALKAWAY cover?
The WALKAWAY program is free for one year on new or used cars bought through a participating dealer. The free program covers up to $7,500 in negative equity on the car.
The complimentary program allows you to return your car if you experience:
Involuntary job loss
Inability to work due to physical disability
Job loss due to critical illness
Bankruptcy if self-employed
Loss of driver's license for medical reasons
International job transfer
Death due to critical illness
WALKAWAY allows buyers to purchase additional coverage for their vehicles. You can extend the standard coverage for up to three years, or upgrade to Elite coverage. The Elite program doubles the negative equity coverage to $15,000 and adds coverage for:
Temporary job layoff
Inability to work due to stress or mental disability
Accidental death
Upgrades to the WALKAWAY program are priced at a flat rate. The model and price of the car covered doesn't affect the cost of the program.
When a customer needs to return a car through the WALKAWAY program, they first need to prove that they have experienced one of the economic hardships covered by the program. This might seem a little humiliating, but Beaver stresses that this is important because in order for the program to be successful, it can't be used as a cheap rental by people who decide they no longer want their car six months after buying it.
The value of a car or truck returned under the WALKAWAY program is determined by averaging popular book values of the vehicle with the dealer's assessment of its trade-in value. If that value is less than the current amount outstanding on the loan, WALKAWAY will pay the difference.
Returning a car through WALKAWAY doesn't show up as a car loan default on your credit report. All your credit report will show is that the loan was paid off.
Currently, Hyundai buyers are limited to the complimentary year of standard service, but Hyundai is planning on expanding to the full WALKAWAY program, which will allow buyers to upgrade their protection.

Chances are, you qualify for the WALKAWAY program
Unlike most incentives that draw you into a car dealership only to find out that you don't qualify, the WALKAWAY program has no restrictive conditions that allow dealers to bait-and-switch customers. Any customer who leases or takes out a car loan on their new or used truck is eligible for WALKAWAY. There are no credit checks, employment history reviews or health inspections required for car buyers who want WALKAWAY protection. The only stipulation is that the higher levels of protection only cover you until your 85th birthday.
The WALKAWAY program started when one Canadian car dealer had lots of customers coming into his dealership with hard-luck stories saying that they just couldn't make their payments. Since the program's start, more than 310,000 cars have been sold with WALKAWAY contracts, and more than $35 million worth of customer debt has been settled in Canada, Australia and the United States.
The fine print
In order to be eligible for a payoff through the WALKAWAY program, customers must have made at least two payments on their car loan, and must be current on their payments. Even if you've missed a payment, you might have the option of returning your car through WALKAWAY.
Beaver says that in the case of an unforeseen hardship like the ones covered under WALKAWAY, creditors will often change the status of customers' accounts so that they are current on their payments and the car can be returned.
Making a late customer current on their payments in this case can save creditors thousands of dollars. If a customer is unable to pay for a car under normal circumstances, the lender has to pay for a collections company, repossession, storage and remarketing on the car. Add to all those costs the fact that repossessed cars are often sold at auction for much lower prices than dealers pay for trade-ins, and it's clear that it will usually be in a creditor's best interest to lose a few hundred dollars making a customer current on their loan and save a few thousand in the end.
Obviously, WALKAWAY doesn't guarantee that your creditors will call off some of your debt so that you can take advantage of the program if you're behind, but it is in the best interest of the lenders to do this in many cases.
So what's the downside?
Basically, there is no downside. Think of the WALKAWAY program like car loan insurance. Just like not using your regular insurance coverage only means that you haven't been in an accident, not using your WALKAWAY coverage means that you haven't lost your job.
There are currently only a few U.S. dealers that offer the WALKAWAY service, but the company has been contacted by hundreds more and is planning to roll out coverage in the United States over the next few years. If you want to take advantage of the program now, buy a Hyundai.
Repossession photo via columbiabusinesstimes.com.
Copyright © 2009 AutoLoanDaily.com. All rights reserved. This material may not be published, rewritten or redistributed without permission.