Chevrolet Names 15-Member Advisory Board to Test Drive Volt Before Launch
Chevrolet says it has hand-picked 15 advanced technology enthusiasts and electric vehicle advocates to preview the Volt for three months before its launch. Chevrolet said in a statement these consumers will participate in the vehicle and charging evaluation program, which will begin in late October. The Volt is scheduled to arrive in dealerships at the end of the year.
The group of 15 "expert consumers" have been named to the Chevrolet Volt Customer Advisory Board. The panel of experts will drive the Volt for three months and will provide feedback on the car before it launches.
"We are eager to learn as much as we can from potential customers about their experience with the Volt," said Tony DiSalle, Chevrolet Volt marketing director. "We want to know their thoughts, impressions, and perceptions. This special group of electric vehicle experts gives us the opportunity to learn even more as we near market launch."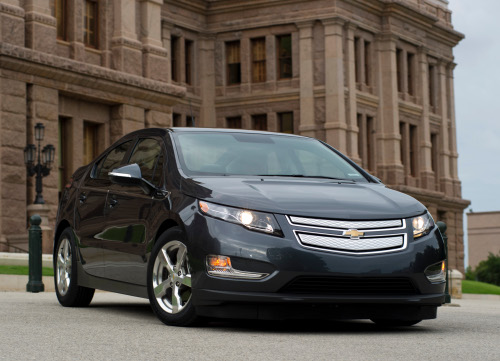 Chevrolet Volt Customer Advisory Board members:
Robert Becker – Electric vehicle enthusiast
Peter Corsell – Chief Executive Officer of GridPoint
Lyle Dennis – Electric vehicle enthusiast
Tom Kuhn – President, Edison Electric Institute
Andy Lipkis – President and Founder, TreePeople
Bill Nye – Celebrity scientist and electric vehicle enthusiast
Eric Rotbard – Electric vehicle enthusiast
Chelsea Sexton – Electric vehicle enthusiast
Colin Summers – Electric vehicle enthusiast
Mark Swain – Electric vehicle enthusiast
Kris Trexler – Electric vehicle enthusiast
Bryan Voltaggio – Celebrity chef and owner of Volt restaurant
Jim Woolsey – Former Director of Central Intelligence and Renewable Energy and Energy Security Investor
Brian Wynne – President, Electric Drive Transportation Association
Mike Maria – Electric vehicle enthusiast
You've most likely heard of Bill Nye (the science guy) and celebrity chef Bryan Voltaggio. Chevrolet said the panel members have knowledge of advanced automotive technology.
The Volt has an MSRP of $41,000. Shoppers can lease the Chevrolet Volt for as low as $350 a month for 36 months with $2,500 due at lease signing.
The Volt qualifies for a federal income tax credit ranging from $0 to $7,500, which would bring the price of the sedan down to $33,500. The monthly lease payment incentive reflects the maximum tax credit. Lessees and buyers will also receive five years of GM's OnStar service and an eight-year, 100,000 mile battery pack warranty.
If you live in California, New York, Michigan, Connecticut, Texas, New Jersey and the Washington D.C. area, you can pre-order your Volt now at your Chevrolet Volt dealer. Visit www.getmyvolt.com to find a list of dealerships that will sell the Volt.