Chrysler Unveils Five-Year Plan
Chrysler is announcing its five-year plan today at its company headquarters in Auburn Hills, Mich. The automaker says it had $5.7 billion in cash at the end of September. This is up from $4 billion at the end of June.
More importantly for car shoppers, Chrysler's head of the Dodge Car brand and design, Ralph Gilles, announced there will be 11 new or refreshed vehicles by 2014, the Detroit News reports.
Chrysler will improve the Dodge Caravan, Dodge Avenger and Dodge Journey. The exterior look and interior quality will receive upgrades. The vehicles will also get new, quieter engines.
A new Dodge Charger is coming next year, as well as a seven-passenger crossover to replace the Durango. The Dodge Caliber will eventually be replaced by a compact sedan, similar to the Dodge Neon. Also, a new D-size sedan will replace the Dodge Avenger.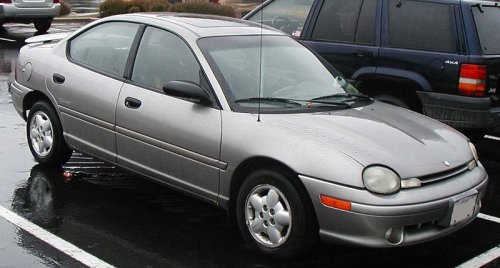 Remember the first generation Dodge Neon? It's being resurrected in the form of a new compact sedan and will replace the Dodge Caliber.
The subcompact Dodge Hornet concept hatchback will be put into production. The Dodge Nitro will be replaced with a version closer to the original Nitro concept.
Chrysler will introduce a hybrid version of the Dodge Ram in 2011 and put a test fleet of plug-in minivans and Rams on the road, the Detroit News reports.
Jeep fans will be glad to hear that a Wrangler with a diesel engine will hit the market by the end of 2011. It will feature a start/stop system that saves fuel when the engine turns off while the Jeep is in idle.
There's no argument that the new Chrysler has to win buyers back and fast. Will its new vehicle line-up and Fiat models attract buyers to a Chrysler, Jeep or Dodge showroom?
Image via Wikipedia.