Credit Unions are Primary Auto Loan Providers in Some Areas
Auto loan lenders differ depending on the region of the country you live in. During the recession, credit unions have stepped up and offered car loans to shoppers at good rates because they didn't take the big losses from the housing foreclosure crisis like the major banks did. Credit unions have money to lend and are willing to take more risk to give car loans to consumers.
Auto financing experts have been telling consumers to check their local credit unions first before they apply for an auto loan at the dealership. Then see if the dealership's lenders can beat the rate the credit union offers.
"In the El Paso, Texas region, credit unions are very strong," says Agustin Vasquez, Jr., general manager, Mack Massey Chrysler Jeep Dodge in El Paso, Texas. "They're stronger than our banks."
"Sixty-five percent of auto loans in the El Paso area are done by credit unions. Thirty-five percent are done by the local banks. National banks are still very conservative."
Vasquez says that at his dealership, the minimum credit score to get an auto loan is 520, with a little qualification. His dealership has approximately 18 lending sources right now.
"Those with a good payment history with their credit union will more than likely have any credit issues overlooked when they apply for a loan," Vasquez explains.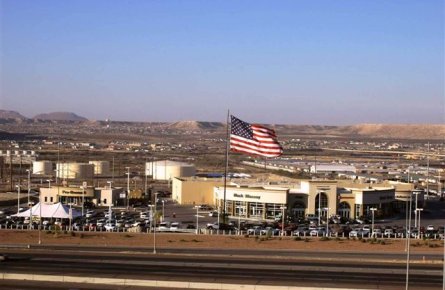 Credit unions are a popular source of car loans in the El Paso, Texas area, especially for consumers who buy a car at Mack Massey Chrysler Jeep Dodge.
Usually, the higher your credit score, the lower your interest rate will be for your car loan. The situation is different with the credit unions in the El Paso area, Vasquez says.
"Credit unions have kind of done away with tiers temporarily," he says. "If you qualify, you're going to qualify for the same rate as someone with good credit. The only difference is the amount of the loan you'll be approved for."
Vasquez explains that if the customer's credit score is 750 and above, they'll be able to take out an auto loan for 110 to 120% of the value of the vehicle. If the customer's credit score is 600 or below, they'll only get a 90% advance.
The length of car loans in the El Paso area is more typical of loans a few years ago.
"Through the credit unions, a 72-month loan is still the most popular," Vasquez says. "The maximum is 84 months. We give the customers quotes for 48, 60 and 72 months."
Vasquez's dealership, Mack Massey Chrysler Jeep Dodge, was one of the Chrysler dealers the automaker decided to keep during its bankruptcy. Chrysler ended franchise agreements with nearly 800 dealers.
Chrysler Financial, Chrysler's captive lender, has essentially stopped consumer lending for auto loans as part of Chrysler's bankruptcy. GMAC, GM's lending arm, took over consumer lending for those who buy a Chrysler, Dodge or Jeep vehicle.
Chrysler Financial stopped leasing altogether and GMAC recently started doing leases again for certain GM vehicles under certain terms.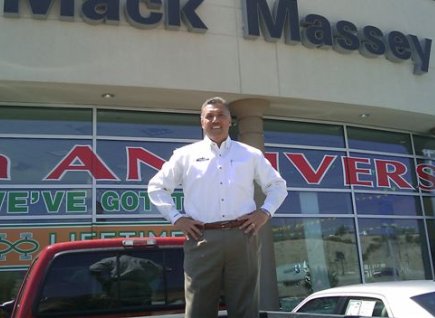 "Leasing has really gone by the wayside," Vasquez (pictured left) says. "There's some minimal leasing done by GMAC for government commercial vehicles."
So why doesn't Vasquez's dealership use GMAC as its primary auto loan lender?
"GMAC's dealer agreement with new Chrysler is not the same dealer agreement as they have with older GM dealers," Vasquez explains. "The indirect lending agreement is not what existing GM dealers were working with. With charge backs, there's no room for the dealer to make a mistake."
Vasquez says that if a buyer came into the showroom and wanted to take advantage of a 0% financing incentive offered by the manufacturer, he or she would have to go through GMAC.
"We really don't use GMAC a whole bunch," he says. "Only with special incentives. We also use them for commercial vehicles."
"I think GMAC is probably being very conservative. Typically, they don't want anything below 620. On occasion, if the consumer has a 600 credit score and a good payment history, I tell my finance guys to overlook the fact that the score is not a 620. Maybe they're trading in a car with a loan that's paid as agreed."
Vasquez says that across the board, income verification plays a big role in the auto loan approval process right now.
"Over 95 percent of all lenders are calling and interviewing customers to get information first-hand," Vasquez says. "If they have a stable job and good income, they can get a decent loan. Banks want a minimum of $1,600 monthly income and credit unions want $1,800 a month minimum income for a car loan."
Lenders expect buyers to give a down payment nowadays, and that's no different in the El Paso region.
"Our customers' average down payment is $1,200," Vasquez says. "This region is very payment conscious. Most customers like to be in the low $300 range."
"It seems like currently, there's a little bit of an influx of cash deals. With the economy the way it is, people are just waiting to see what's going to happen, which causes pent-up demand. They are paying off loans and eliminating negative equity."
"With cash for clunkers, a lot of people had a lot of money to put down and some even paid in full. People are being very conservative and holding onto their money."
Cash For Clunkers
"We did great during cash for clunkers," Vasquez says. "We could have done better, but we ran out of inventory. Before cash for clunkers, we had good stock. When Chrysler closed the factories, it was really unexpected. We couldn't order what we wanted to order. Our good mix of models started going south. We have good partners for trading inventory and were able to get vehicles that way."
"As soon as we had confirmation of the invoice of new cars coming in, we sold a lot of those as well. There's no doubt that cash for clunkers was a success for dealers. The import dealers in our market also did well. Running out of cars is a problem you want to have."
Advice For Car Shoppers
Consumers who are in the market for an auto loan now should make sure their monthly payment is within 35 percent of their gross income, Vasquez says.
"For example, if the gross income is $2,000 a month, they should spend $700 or less, including car insurance, gas and maintenance," he says.
For consumers with bad credit, Vasquez says that they can use a car loan as a stepping stone to get back into the financial market.
"These consumers shouldn't be so picky about the type of car they want," he explains, "They aren't going to get their dream car, but they need reliable transportation. Be up front in the interview with the salesperson or finance manager to see what car works best for your budget."
"If they pay on time every month, they can possibly upgrade in a year. They can overcome their financial situation."
Future Car Sales

Clearly, the government cash for clunkers program was a success, but analysts predict that the coming months will be slow, as the incentive program pulled ahead some sales.
"I think we are going to have some good months ahead," Vasquez says. "I think the majority of consumers wanted to buy a car and cash for clunkers gave them a pretty good excuse. People were ready. There was pent-up demand."
"Consumers were already in money saving mode. These people will have safer cars now. Cash for clunkers helped auto employees and factories. In September, if we get inventory, we'll sell them. The used car market will remain strong. We need to keep the economic ball rolling."
Copyright © 2009 AutoLoanDaily.com. All rights reserved. This material may not be published, rewritten or redistributed without permission.