Ford Recalls Numerous Models For Fire Risk
For those of you who ignored the first recall about your Ford, Lincoln or Mercury possibly catching on fire, this recall is for you. The National Highway Traffic Safety Administration has put out yet another advisory on the recall for owners of these vehicles.
The NHTSA describes the problem as a "defective cruise control switch that could lead to a fire at any time, even while the vehicle is turned off, parked and unattended."
NHTSA spokeswoman Karen Aldana says the recall is being announced again because of the 12 million vehicles recalled in February, nearly 5 million still have not been brought in for repair,
reports CNN
.
"This is kind of another plea to say the manufacturer has all the parts available," says Aldana. "There is no excuse for not bringing your vehicle in to be fixed. It poses a serious fire hazard to vehicles and to dwellings. And that's scary."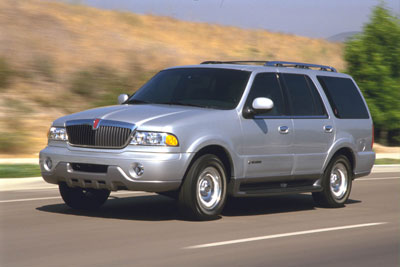 The 2000 Lincoln Navigator is one of the models being recalled for the fire hazard.
The NHTSA has received nearly 60 complaints of fires that occurred in the affected vehicles.
The NHTSA is also currently investigating a similar problem in Ford Windstar vans. The agency has received more than 130 complaints of alleged fires in those vehicles.
So please take your vehicle in to get fixed. It's free. I know I'm not parking next to any fire-catching Ford, Lincoln or Mercury vehicles any time soon!
Owners can contact their local Ford/Lincoln/Mercury dealer at 888-222-2751 or visit
www.ford.com
.
The following vehicles are being recalled:
1993 – 2004 Ford F150
1993 – 1999 Ford F250 (gasoline engine)
1993 – 1996 Ford Bronco
1994 – 1996 Ford Econoline
1997 – 2002 Ford Expedition
1998 – 2002 Lincoln Navigator
1998 – 2002 Ford Ranger
1992 – 1998 Ford Crown Victoria, Mercury Grand Marquis and Lincoln Town Car
1993 – 1998 Lincoln Mark VIII
1993 – 1995 Ford Taurus SHO with automatic transmission
1994 – Mercury Capri
1998 – 2001 Ford Explorer and Mercury Mountaineer
2001 – 2002 Ford Explorer Sport and Explorer Sport Trac
1992 – 1993 and 1997 – 2003 Ford E-150-350 gasoline or natural gas vehicles
2002 – Ford E-550 gasoline engine vehicles
1996 – 2003 Ford E-450 gasoline or natural gas vehicles
1994 – 2002 Ford F-250 through F-550 super Duty trucks (gasoline engine)
2000 – 2002 Ford Excursion (gasoline engine)
2003 – F250 – F550 Super Duty, Ford Excursion
1995 – 2002 Ford F53 Motor home chassis
2002 – 2003 Lincoln Blackwood