Honda Builds New Civic Factory Due to High Demand
Apparently the terrible shape of the new car market hasn't hurt Honda as much as other manufacturers. The Japanese company started production of Honda Civic sedans today in a new factory in Greensburg, Ind. The new Honda facility will employ 2,000 people when it begins operating at full capacity some time in 2009. Currently, there are 900 employees working at the plant.
"With continued high demand for the Honda Civic, we are honored and excited to help meet the needs of our customers in North America," says Yuzo Uenohara, president of Honda Manufacturing of Indiana.
A new Honda Civic is usually considered a pretty conservative buy, so it makes sense that Honda is betting on the Civic to do well while the economy tanks. The new facility will be Honda's second plant in America designed to be a zero waste to landfill facility. Instead of heading to a dump, all the unused manufacturing byproducts are recycled.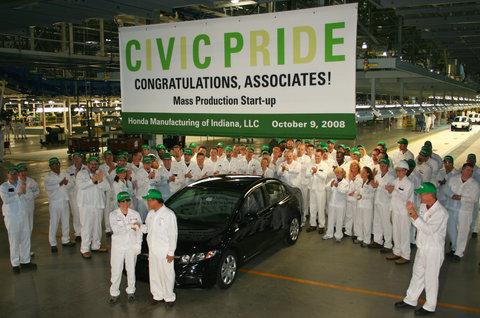 The First Civic rolled off the assembly line today at Honda's new Indiana plant.
Image via Honda.