Honda Unveils $20,000 Hybrid
Honda announced on Thursday that its new Insight hybrid will start at $20,000 and go on sale early next year. Honda CEO Takeo Fukui unveiled the Insight at the Paris Motor Show this week.
The Insight, which will be based on the Honda Fit, will cost about $3,000 less than the rival Toyota Prius and will be the least expensive hybrid on the market.
Honda hasn't released any fuel economy numbers, but since the Civic hybrid gets 45 mpg, the smaller Insight should beat that.
Honda's first generation Insight was the first gas-electric hybrid to go on sale in America, with very unique styling and just two seats.
USA Today
reports that Honda's next hybrid will be a sports car.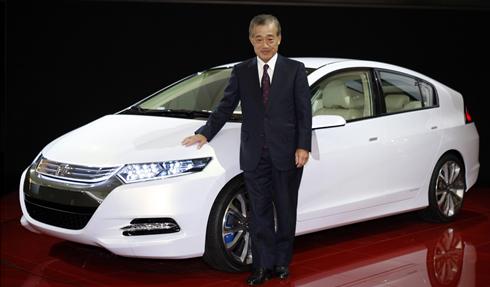 Honda CEO Takeo Fukui poses in front of the 2010 hybrid Insight.
Image Via USA Today