Hundreds of N.Y. Dealers Withdraw From Cash For Clunkers Program
Long delays to receive reimbursement from the government for CARS rebates have caused hundreds of auto dealers in the New York area to pull out of the cash for clunkers program.
The Greater New York Automobile Dealers Association said Wednesday about half its 450 members have left the program because they cannot afford to offer more rebates and are concerned about receiving reimbursement, the AP reports.
"In many cases, dealers have shelled out hundreds of thousands of dollars in rebates to consumers since the program began six weeks ago," said Mark Schienberg, president of the GNYADA. "And only a very small percentage of that money has been paid back to the dealers, leaving these small business owners too cash strapped to continue offering consumers the discounts. Even in the best of times, carrying this much debt would cause problems, but in today's credit-strained economy, it's simply too much for the dealers to handle."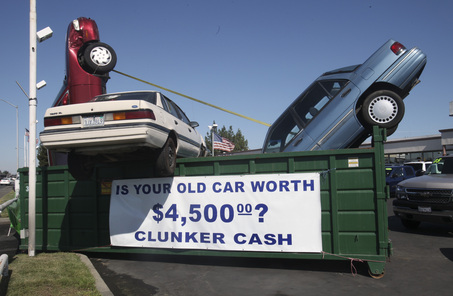 Schienberg said the group's dealers have been repaid for only about two percent of the CARS sales they've made so far.
The New York dealer group said in a statement that lack of repayment for rebates isn't the only hurdle they are facing. Dealers complain that valid deals are being rejected by the government for small mistakes and typos with little or no guidance on how to correct the paperwork problem. Dealers can't get a "yes" or "no" answer about qualification in a timely manner from program administrators. The government's system has rampant computer glitches which prevent dealers from applying for rebates. Customer service phone lines often take several hours to get through.
Transportation Secretary Ray LaHood said Wednesday, "I know dealers are frustrated. They're going to get their money."
The latest numbers as of Wednesday morning show $1.81 billion worth of new cars have been sold through the program, amounting to 435,102 new car sales, according to the DOT.
Image: AP Photo/Rich Pedroncelli, via blog.nj.com.