Hyundai Offers Low Auto Loan Rates in June
Hyundai is offering car loans with 2.9%, 3.9% or 4.9% financing in June, depending on the length of the auto loan. The low auto loan rates are good on the Accent, Elantra, Genesis Coupe, Santa Fe, Sonata and Tucson.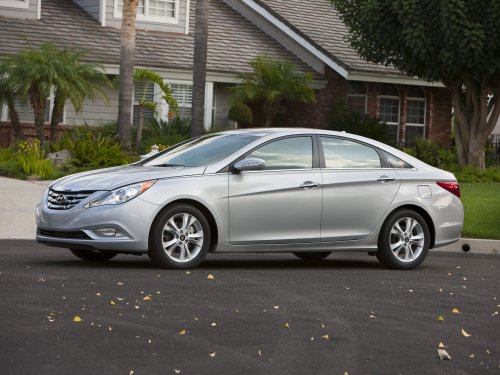 Shoppers can still lease a 2011 Hyundai Sonata in June for $199 a month for 36 months.
The 2010 Sonata is the only Hyundai car in June being offered with a 0% auto loan for 60 months plus $750 in bonus cash or $2,500 in customer cash back. Hyundai is trying to clear out the 2010 Sonatas now that the 2011 Sonata has been released. The 2011 Sonata can be leased for $199 a month for 36 months with $2,393 due at signing. Buyers can take advantage of 2.9% auto loans for 60 months or 3.9% for 72 months if they want to buy the 2011 Sonata.
Hyundai has lease specials on its 2010 Veracruz, 2010 Tucson, 2011 Sonata, 2010 Genesis and Genesis Coupe and 2010 Elantra and Elantra Touring in June, with monthly payments ranging from $159 to $399. You'll need anywhere from $2,000 to $3,000 due at lease signing.
Hyundai is also offering customer cash back of up to $2,500 in June on its Accent, Azera, Elantra, Elantra Touring Genesis, Genesis Coupe, Santa Fe, Sonata, Tucson and Veracruz.