Ikea's Leko Concept Car Revealed
Ikea's "concept car" Web promotion turned out to be a hoax (sort of). The mysterious bubble-shaped concept car under a tarp shown in an online French video was named the Leko.
"As you probably have guessed, the Leko car was a viral marketing campaign," said Isabelle Cremoux-Mirgalet, a spokeswoman for Ikea France. It is a "service that has all the qualities we have promised on the web for 'the car according to Ikea': a tailored car sharing online service for all French stores."
Designed by Ikea France, in association with Comuto, the company behind France's ride-sharing Web site Covoiturage.fr, Ikea France's car-share service will operate to and from 26 of Ikea's stores,
reports The New York Times
. The site will launch Tuesday.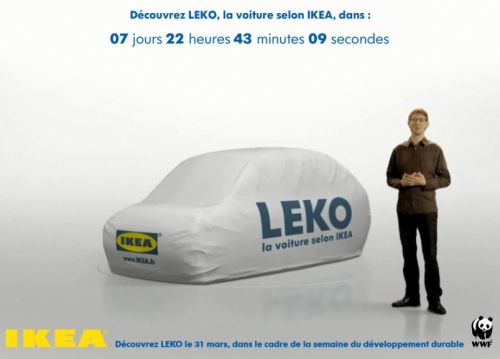 The Ikea Leko turned out to be a car/ride-sharing service operating out of Ikea's stores in France.