Infiniti Features Low Interest Rates on Lengthy Car Loans in September
Infiniti is offering similar new car incentives in September compared to the ones offered in August. Infiniti is once again offering 0 percent car loan rates on its 2010 G37 sedan, G37 coupe, G37 convertible, EX35, FX35 and FX50. These auto loans are up to 36 months long.
Interest-free financing can be very attractive on a luxury vehicle, but since you have to pay off the loan in three years, your monthly payments will be rather high. If you need a longer car loan to make your monthly payments lower, Infiniti also has 1.9 percent auto loans for up to 60 months on the same vehicles, except the G37 convertible, which is 2.9 percent for 60 months. The FX35 and FX50 are only 0.9 percent for up to 60 months.
The 2011 Infiniti M37, M56 and QX56 have 2.9 or 3.9 percent auto loan rates in September, depending on the car loan length.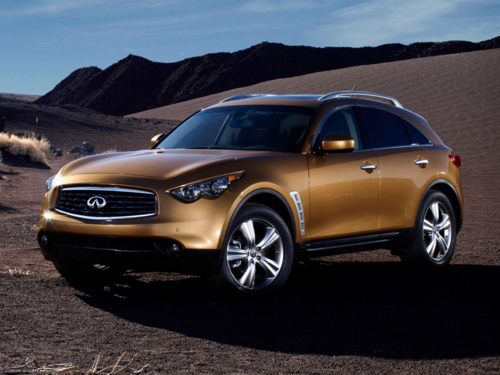 The $42,850 2010 Infiniti FX35 is either 0 percent for 36 months or 0.9 percent for 60 months in September.
If you'd rather lease a new Infiniti, every model in Infiniti's lineup has a lease offer this month. Monthly lease payments range from $319 to $865. Leases are all 39 months long, except for the M37 and M56, which have 36-month leases. Lessees will need anywhere from $3,499 to $4,999 at lease signing.
Incentives listed are for the southeast region. They may differ depending on where you live. Check Infiniti's site to find the incentives in your area.