J.D. Power Study Looks at Why Car Shoppers Avoid Certain Vehicles
Car shoppers are berated with advertisements on the television, radio, newspaper and Internet trying to get them to consider a certain vehicle or automotive brand. Why do certain vehicles make shoppers' lists and others don't? J.D. Power and Associates recently did a study to find out the reasons consumers fail to consider, or avoid, certain models when shopping for a new vehicle.
"Perceptions about reliability are slow to change, and some brands have a negative consumer perception that is at odds with reality," Kerri Wise, director of automotive research at J.D. Power and Associates, said in a statement. "However, brands are getting the word out about their actual reliability performance and are slowly but steadily changing perceptions."
The J.D. Power and Associates 2010 Avoider Study found that having a bad prior experience or having a poor perception of a manufacturer's reputation has increased in importance to car shoppers from 2009, while concerns regarding the future of certain brands have lessened.
J.D. Power found that car shoppers are less concerned with Audi, Scion, smart, Ford, GMC, Hyundai, Kia and Ram Truck's reliability. Because car shoppers had a better perception of reliability among these brands, it lowered their avoidance rates.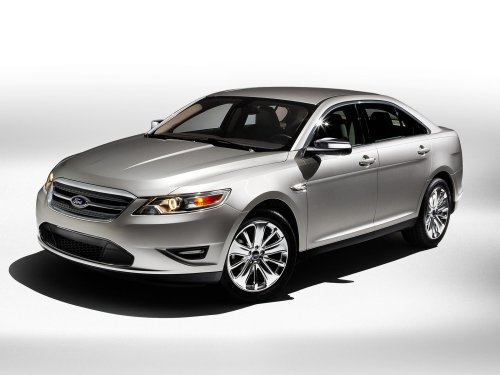 The newly redesigned Ford Taurus was considered by more shoppers this year.
"Recent safety recalls have clearly caused some consumers to be hesitant in considering certain brands," said Wise. "In contrast, consumer concerns about the staying power of some domestic brands have been alleviated – following a swift move through bankruptcy proceedings – and due to the beginnings of a recovery in the automotive market."
The study also found that redesigned models were considered more than the outgoing models they replaced. The new Cadillac SRX, Ford Taurus and Kia Sorento received higher consideration rates.
"A new-model launch or redesign is a manufacturer's best opportunity to change the perceptions of the past," Wise said. "While most redesigned models have higher consideration than the previous-generation models, some models are far surpassing their predecessors, and in the process, are attracting many additional customers to the brand."
Exterior styling was the most common reason for avoiding a particular vehicle. The second most cited reason for shoppers who avoided a certain vehicle was that the model costs too much. The other top reasons for avoiding a vehicle include poor perceptions of reliability, dislike of interior styling and bad reputation of the manufacturer.
Maintenance costs were a big concern among luxury brands, even though many offer free maintenance.
J.D. Power's 2010 Avoider Study is based on responses from about 25,000 owners who registered a new vehicle in May 2010. The study was fielded between August and October 2010.