Jeep Wrangler Polar Edition Has Some Serious Snow Skills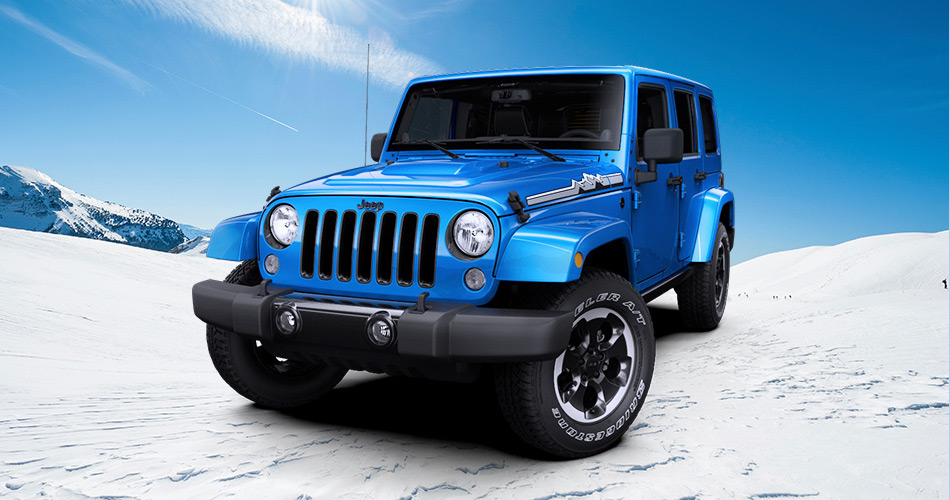 Autumn, when a young man's mind wanders from the beaches and surf of summer to the mountains and snowy endeavors of winter. Luckily for young men (and women) everywhere, there is a vehicle specially equipped to handle trips up the mountain this winter and then allow you to go topless next summer, the 2014 Jeep Wrangler Polar Edition.
The Jeep Wrangler Polar Edition was first shown at the Frankfurt Motor Show and initial reports said it would not make its way to the United States. Luckily for Wrangler fans, the bigwigs at Jeep have decided that the Polar Edition is U.S. friendly enough to be sold here and will go on sale in November.
The 2014 Jeep Wrangler Polar Edition has a unique blacked out front grill, black exterior accents, a unique hood decal, 18-inch gloss black wheels, a power dome hood, a body colored hardtop and white interior finishes. The 2014 Wrangler Polar Edition is available in Hydro Blue (shown above) as well as white and silver and will be available in both standard two-door and Unlimited four-door configurations. In addition to the visible changes that make the 2014 Wrangler Polar unique, the special edition Wrangler will have Jeep's Trac-Lok limited slip rear differential standard to ensure that no matter how steep and snowy the mountain you're climbing, you'll make it to the top.
Image via Jeep.