Martha Stewart's Chevy Suburban
Martha Stewart is the undisputed queen of Thanksgiving, so it's a safe bet that she'll be in the kitchen cooking this week. If she does need to pop out to the store though, she'll be covered. Her massive Chevrolet Suburban can handle anything she might need, from a bag of onions to a new refrigerator.
"I have a Suburban," Martha told Life Magazine. "I live in my car. I have all these beautiful homes, but I actually live in my car. I commute because I like to go home to my farm. I like to see my animals every day, to take walks, to look at my gardening."
The Suburban isn't a bad vehicle to live out of, and with 138 cubic feet of cargo room, you could almost entertain in it too.
If Martha Stewart financed her Chevy Suburban, she'd pay about $1,093 a month with a 20% down payment and a 48 month loan.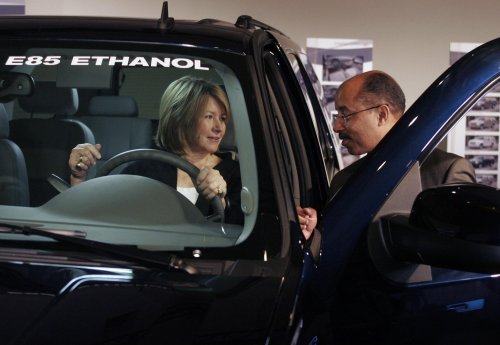 Martha Stewart gets a tour of Chevy's newest Suburban. There are rumors that she'll be designing a special edition of the popular SUV.
Photo via thecarconnection.com.