Mercedes-Benz A-Class Revealed, Heading to U.S.
Mercedes-Benz has revealed the new A-Class, which may be available for the 2013 model year and will be the first of the tiny Benzes to come to America. Mercedes plans to bring the A-Class to the United States to steal some of the premium small car market from the Audi A3, Mini Cooper, Volvo C30 and the higher-end VW Golf trim lines. Mercedes is the last of the European makes without a premium small car on sale in America (Mini is owned by BMW).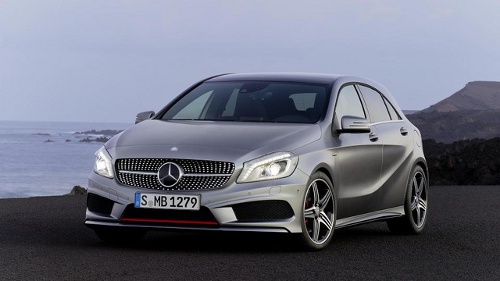 The 2013 Mercedes-Benz A-Class is a radical departure stylistically from the outgoing model. The old A-Class looked like a wedge in the front and an awful lot like the Honda Fit in the rear. Not a beauty, and not the sort of car that would appeal to U.S. buyers in the high $20,000 price range. The new 2013 A-Class looks like a baby Benz, borrowing design cues from the bigger C – and E-Class sedans that most buyers will be dreaming of when they put the deposit down on the A-Class.
Don't be surprised to see an Electric Mercedes-Benz A-Class in the near future. Mercedes and Nissan have a partnership based around sharing engine technology, including the electric drive system in the smart car. An A-Class that uses the Leaf's electric drivetrain would be a good use of that alliance.
In addition to any potential electric A-Class models, the smallest Mercedes will get a new line of direct injected, turbocharged four-cylinder engines. According to Jalopnik, the A-Class will come with both gasoline and diesel, but whether the diesel makes it's way across the Atlantic remains to be seen.