NHTSA to Investigate 43,000 Toyota Highlander Hybrid SUVs For Engine Stalling Complaints
More than 43,000 Toyota Highlander Hybrid SUVs are being investigated by the National Highway Traffic Safety Administration because of reports that the engine stalled while driving. According to the Associated Press, the NHTSA said it had received 32 complaints about engines that stalled in 2006 model-year Highlander Hybrids and the investigation will look at 43,491 of these vehicles.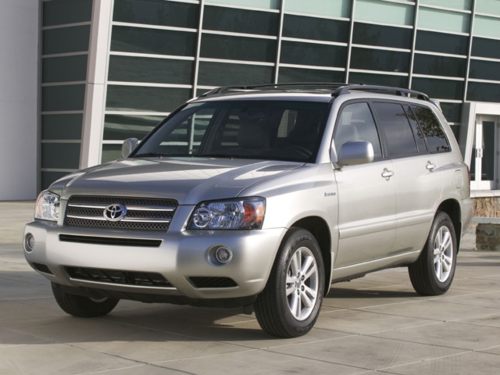 2006 Toyota Highlander Hybrid
The investigation involves reports of Toyota Highlander Hybrids stalling at speeds of 40 miles per hour or more, the AP reports. Some drivers reportedly could not restart the SUV and/or it was towed to the Toyota dealership.
Toyota said it would fully cooperate with the investigation. There have been no crashes or injuries reported in association with the alleged problem.
If the NHTSA investigation into the 2006 model-year SUVs doesn't bother you and you're shopping for new hybrid SUVs, the 2010 Toyota Highlander Hybrid can be leased for $469 a month in February for 39 months with $2,468 due at signing. The 2010 Highlander Hybrid can also be purchased with 0 percent auto loan financing up to 60 months in February. The interest-free car loan rate deal also includes no payments for 90 days when financed through Toyota.