Non-Hybrid Options for Car Shoppers Concerned With High Gas Prices
If you're in the market for a new vehicle and are worried that the price of gas will continue to rise, there are other options besides a hybrid or electric vehicle.
NADAguides, whose site provides vehicle pricing and information, has listed the top five vehicles it feels are good options for buyers based on fuel efficiency and price. NADAguides says it chose these vehicles because they earn 30 mpg or better on the highway, have good features, options and safety equipment and have an MSRP less than $30,000.
2011 Chevrolet Aveo

2011 GMC Terrain FWD 4 Door SLT

2011 Kia Soul 5-Door Wagon Auto Sport

2011 Nissan Sentra 4-Door Sedan I4 CVT 2.0 SL

2011 Volkswagen Jetta SportWagen
Edmunds.com, an automotive information site, chose five non-hybrid new vehicles that earn at least 40 miles per gallon on the highway. Edmunds.com's selections don't have a price limit, but are all affordable options.
2011 Chevrolet Cruze Eco

2011 Ford Fiesta SE SFE

2012 Ford Focus SFE

2012 Honda Civic HF

2011 Hyundai Elantra
"The 40 MPG Club is getting a whole lot bigger in the U.S. at just the right time, when gasoline is regularly topping $4 per gallon in many parts of the country," said Edmunds.com Associate Editor Scott Doggett. "These cars are great choices for consumers who want better fuel economy but aren't ready to make the switch to hybrid or electric vehicles."
Many of these non-hybrid options are available in March with low monthly payment lease deals and 0 percent auto loan financing.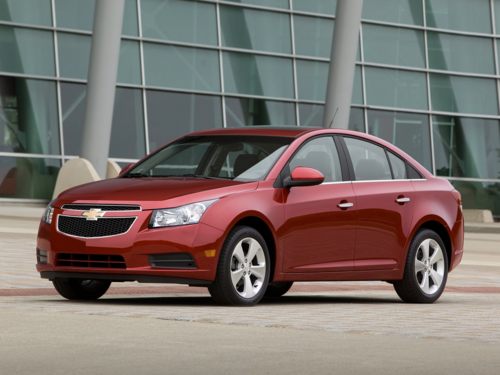 The ECO version of the 2011 Chevrolet Cruze is a good option for new car shoppers who want fuel efficiency.