Penske Automotive Puts New, Used Vehicle Inventory Online
Penske Automotive Group launched its consumer car shopping website today, PenskeCars.com. Shoppers can browse, research and compare nearly 25,000 new, used and certified pre-owned vehicles from more than 40 automotive brands at Penske Automotive Group dealerships nationwide.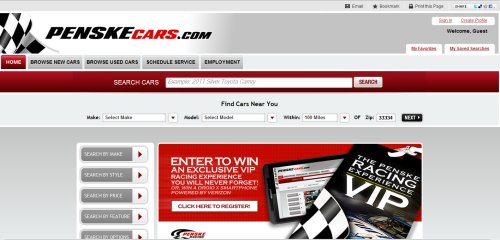 The site provides car shoppers with vehicle information, photos, videos, Carfax history reports, warranties and online service appointment scheduling. If you're on a budget, the site also has a "cars under $10,000" section where shoppers can search for affordable cars in their area. The company's vehicles that are currently listed on eBay for auction can also be found on the new site. Shoppers can browse dealer inventory for new and used vehicles in their area, as well as find a list of local Penske Automotive dealerships.
"We encourage our current and prospective customers to visit PenskeCars.com," said Roger Penske, chairman of Penske Automotive Group. "We have dedicated professionals that will provide a customer friendly experience with the convenience of nationwide door-to-door delivery."
Penske Automotive Group is headquartered in Bloomfield Hills, Mich. and runs 325 retail automotive franchises worldwide. Penske Automotive's retail franchises sell new and used vehicles, finance and insurance products and replacement parts. The dealerships also offer maintenance and repair. The company has 173 franchises in 17 U.S. states and Puerto Rico and 152 franchises outside the U.S., mostly in the United Kingdom.