Small Cars are Getting Safer
Small cars are getting more popular. With the economy in limbo and gas prices uncertain, many new car buyers are stepping down from SUVs into less expensive, fuel-sipping compacts. Fortunately, while they are growing in popularity, small cars are also getting safer.
Just in the last two years, there has been a marked improvement in side-impact crash test ratings for small cars. In 2006, the Insurance Institute for Highway Safety rated only three cars as good in their side-impact crash tests. In 2008, 11 cars earned a good side-impact rating.
Side impacts are one place where small cars have typically been less safe than larger vehicles. The IIHS test imitates a large SUV or pickup crashing into the side of a car,
according to The Wall Street Journal
. Because the bumper on an SUV or pickup is so high, it typically hits a smaller car right where an occupant's head would be. Side-mounted airbags and stonger frames have helped make small cars safer in side-impact crashes.
The Honda Civic, Honda Fit, Mitsubishi Lancer, Scion xB, Subaru Impreza, Toyota Corolla and Volkswagen Rabbit all received good ratings in front, side and rear crash tests. Those seven small cars were rated as top safety picks by the IIHS.
According to J.D. Power & Associates, only 29% of small car buyers rated safety as a top concern, while 41% of large SUV buyers did. Small car buyers were more than 17 times more likely to list fuel economy as a major concern than large SUV buyers. Maybe these new safety features will help some SUV buyers make the switch to a smaller car.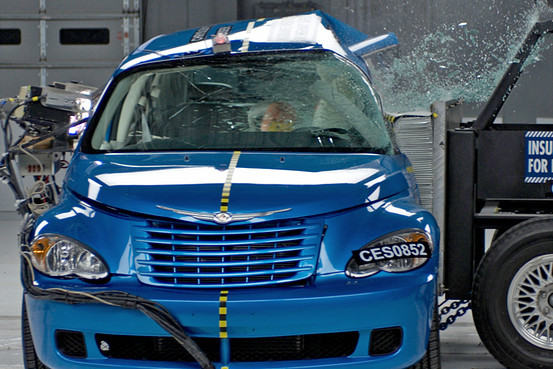 A PT Cruiser being crash tested by the IIHS.
Image Via Wall Street Journal.