Tata Nano Could be Sold in U.S. Within Two Years
Tata, the Indian company that recently released the world's least expensive car, has plans to bring the Nano to the U.S. According to Financial Times and Jalopnik, Tata plans to import the Nano to the United States in the 2011 or 2012 calendar year.
The Nano was initially designed to bring the automobile to the developing world, where entire families routinely ride on a single scooter. The Tata Nano costs about $2,000 in India, where there is a waiting list to buy one.l
Tata believes that with the U.S. economy in rough shape, car buyers will be receptive of an ultra-budget model. The Indian Tata Nano costs about $2,000 USD, but the American model will most likely be priced closer to the European model, which costs about $4,000 USD. The extra cost will pay for the additional equipment needed to comply with the strict safety and emissions standards in the United States.

At $4,000, the Tata Nano would undercut the price of the cheapest car in the U.S. (the Hyundai Accent) by about $6,000. That price is certainly enticing, especially if you've priced out 10-year-old cars recently and realize that many of them still cost quite a bit more than $4k. The smart fortwo costs $11,900 and only seats two, where the Nano seats five and has four doors.
Tata will have to do much better than the Indian Nano's 33-hp engine to sell in America. The twin cylinder Indian spec Nano does 0-60 in 17 seconds, which would make it a serious impediment to traffic flow anywhere except for very congested metropolitan area. Safety would also be a major concern outside of low speed urban areas.
The Tata Nano will be a godsend for fans of automobile Frankenstein monsters. I'm putting the over/under at 6 months after the release date before we see both an LS1 and a Hayabusa powered Tata Nano.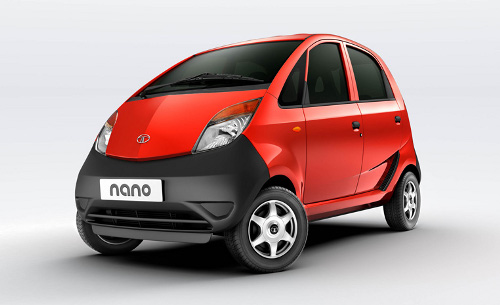 The Tata Nano's strange look is partially due to it's rear-engine layout. With utilitarian people movement and small size more important than styling or aerodynamics and no engine to house up front, the Nano doesn't have any need for a long hood.
Picture via Tata Motors.