The Country's Most and Least Stolen Cars
It used to be that the older model Honda Civics were the most stolen cars in the country. Now though, thieves are going bigger.
This year's list of the most stolen vehicles includes several big trucks and SUVs. What's the most stolen vehicle? The 2007 Cadillac Escalade ESV full-size luxury SUV has the highest theft-claim frequency of any vehicle by a long shot,
reports Forbes
. It's 15 times more likely to be stolen than the least-stolen car, the Mercedes E Class sedan.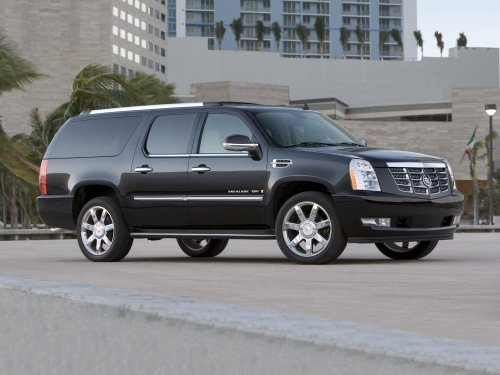 The list was compiled by theft-claims for 2005-07 model year vehicles by the Highway Loss Data Institute (an affiliate of the Insurance Institute for Highway Safety).
"The Escalade has been the star of the show with car thieves for the better part of the decade," says Russ Rader, an IIHS spokesperson. "It has pop-culture appeal, and thieves are attracted to it."
America's 10 Most Stolen Cars:
Cadillac Escalade ESV (pictured above)
Ford F-250 SuperCrew
Cadillac Escalade
Dodge Charger
Ford F-350 SuperCrew
Hummer H2 SUT
Dodge Magnum
Hummer H2
Dodge Durango
Honda S2000 Convertible
America's 10 Least Stolen Cars:
Mercedes E Class
Buick Rainier
Subaru Forester
Buick Terraza
Volkswagen New Beetle
Ford Focus
Volvo V70
Toyota Prius
Saturn Relay
Ford Freestyle