Three Dealership Executives and 81 Cars Go Missing in Possible Theft Scheme
Are things so bad in the automotive industry that car dealership executives are stealing cars and hitting the road? In Scottsbluff, Neb., 81 Ford and Toyota vehicles disappeared from Legacy Auto Sales over the weekend and Monday and three executives who worked at the dealership are now missing, the AP reports.
A prosecutor said Wednesday that some of the missing vehicles had turned up in other states and warrants had been issued for owner Allen Patch, controller Rachel Fait and general manager Rick Covello, who are wanted on suspicion of theft. The 81 missing vehicles were valued at about $2.5 million.
How did that many cars vanish so fast? The Ford vehicles were put on transporter trucks and taken away Saturday and the Toyotas were shipped out late Monday, says John Childress, Scottsbluff County's chief deputy county attorney.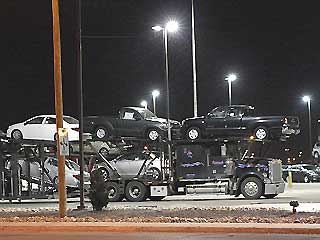 Cars and trucks from Legacy Ford Toyota are loaded onto a truck in this AP photo.
Miranda Cervantes, the dealership's title manager, said she returned to work Tuesday after a day off and found the lot was virtually empty. She said the desks of Patch, Fait and Covello had been cleaned out.
The FBI traced two dozen vehicles to Salt Lake City, including 16 that had been sold at one auto auction. Police also found six at the Scottsbluff airport, and the FBI located other vehicles in Las Vegas.
Justin Leach, a spokesman for Toyota Financing in Torrance, Calif., said Patch financed the Toyotas and Fords through his company.
Legacy has had financial problems, Childress said, and authorities suspect Patch and his associates were looking to sell the vehicles to auction houses and keep the proceeds rather than pay Toyota Financing. He said the three have no criminal records in Nebraska.
Did they think they weren't going to get caught? It's pretty hard to hide 81 cars.
UPDATE:
Police have found the three missing Legacy Ford Toyota executives and at least one of the three has been arrested,
the AP reports
. Scottsbluff Police Capt. Kevin Spencer told KNEB radio that Fait, 37, had been arrested in Tooele County, Utah.
Spencer says the dealership's owner, Allen Patch, 52, had been contacted through his lawyer in Utah. The dealership's general manager, Rick Covello, 53, called police Wednesday afternoon from out of state and arranged to turn himself in.