Toyota Offering Incentives on Prius for the First Time
Toyota's Prius has been wildly popular since it was first released in the U.S. in 2001. When gas prices jumped last year, there was so much demand that there was a waiting list for Prius buyers. When gas prices dropped, so did Prius sales. Now that gas is less than $2 a gallon, not many buyers are willing to pay the premium for a Prius to save gas. Things are so bad that for the first time ever, Toyota is offering incentives on the Prius. Prius buyers will get $750-$1,000 cash back on new 2009 Models.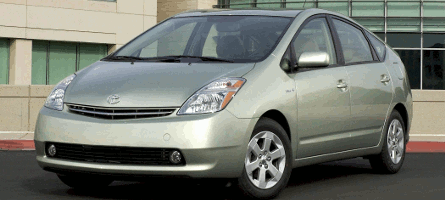 Toyota has dropped the 0% financing offer it was running for a few months. You don't have to live in fear of turning on the TV and hearing 'saved by zero' anymore.
Toyota is offering cash incentives on its entire lineup. The Corolla, Matrix, Tacoma, non-hybrid Camry and Sienna minivan are all available with $1,500 off. The 2008 model year Tundra pickup trucks are being offered with $4,000 cash back,
according to Jalopnik
, and 2009 Tundras are $2,000 off. The tiny Toyota Yaris comes with $1,000 customer cash, which is 8.33% of the base price.
Click here to see all available rebates and incentives on Toyota models
.
Toyota unveiled the 2010 Prius last week at the North American International Auto Show. Toyota says the next generation of Prius will get 50mpg.
Were you on the Prius waiting list this summer? Did you change your mind when gas prices dropped? Email us at Editorial@theautoloandaily.com and tell us your story.