Toyota Voluntary Recalls 2.17 Million Vehicles For Gas Pedal, Floor Mat Problem
Toyota announced today it would voluntarily recall 2.17 million vehicles in the United States over accelerator pedals that could become stuck in floor mats or jammed in carpeting. This is in addition to the vehicles Toyota recalled for the same problem in 2009.
The U.S. Transportation Department said it reviewed more than 400,000 pages of Toyota documents to determine whether the extent of the automaker's recalls for gas pedal entrapment was sufficient, the Associated Press reports.
"As a result of the agency's review, (the National Highway Traffic Safety Administration) asked Toyota to recall these additional vehicles, and now that the company has done so, our investigation is closed," said NHTSA administrator David Strickland.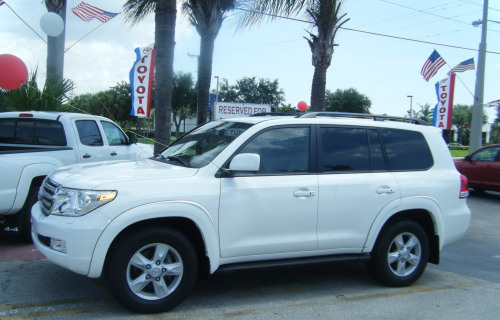 Toyota is issuing yet another recall, for 2.17 million vehicles in the U.S. this time.
Including Thursday's voluntary recall, Toyota has recalled more than 14 million vehicles worldwide for the gas pedal/floor mat problem and other safety problems since 2009. Claims of sudden acceleration were cited as driver error by U.S. regulators earlier this month, not electronic problems. Toyota paid $48.8 million in fines to the U.S. government for the way it handling the recalls.
With today's recall of 2.17 million U.S. vehicles, three models are new to the list. The recall affects about 603,000 4Runners from the 2003-2009 model years; 761,000 RAV4s from the 2006-2010 model years; and 17,000 Lexus LX 570s from the 2008-2011 model years. Thursday's recall also includes 372,000 RX 330, RX 350 and RX 400H vehicles from the 2004 through early 2007 model years, 397,000 2004-2006 Toyota Highlander SUVs and hybrid versions and 20,000 2006 through early 2007 GS 300 and GS 350 all-wheel drive vehicles.
Toyota Spokesman Brian Lyons told the AP the company was unaware of any accidents or injuries related to the new recalls. Owners of affected Toyota and Lexus vehicles will receive notification starting in March. The vehicles will be fixed free of charge to owners.