Very Few at L.A. Auto Show Actually Looking to Buy a Car
At this year's Los Angeles Auto Show, people are attending, but few actually have plans to buy a car. Apparently, those who visited the L.A. Auto Show so far are worried about the economy, gas prices and the future of the American auto industry, reports the AP.
Most of the consumers at the show, which opened Friday, said they normally would be looking for a car, but with the current state of things, are waiting to purchase a new vehicle. Those who said they were looking for a car said they were either downsizing or looking for something with great gas mileage.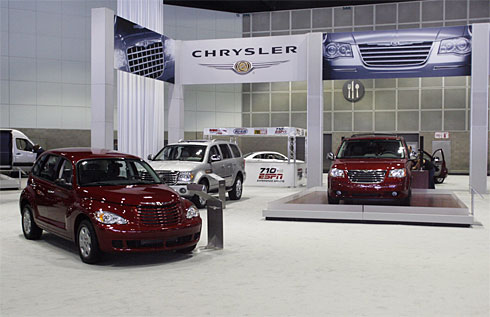 Chrysler's display at the L.A. Auto Show is a ghost town.
"We're in the market if the prices were more accessible," said Jorge Vidrio, a 35-year-old trucker. "Everything's so overpriced, especially for the economy that we're in."
"People are worried in general about their job security," said Lincoln Merrihew, auto analyst with the market research firm TNS. "Anytime you start talking about recession, people will scale back their purchasing, which they have. A car is something that's fairly easy to postpone."
Photo by Fred Prouser, Reuters via USA Today.