Volkswagen CC R-Line Will Debut This Week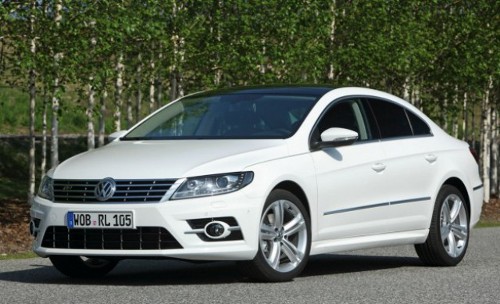 The Volkswagen CC R-Line will be revealed officially at the 2012 Leipzig Auto Show on June 1, but photos have been released in advance. The R-Line of the VW CC is a performance-look package which isn't an actual performance model like the Golf R (which adds all-wheel drive, a better suspension and extra horsepower to the Golf). Instead, the VW CC R-Line adds aggressive body styling to the already attractive CC.
The 2013 VW CC R-Line will come only with the 200-hp 2.0-liter turbocharged four-cylinder engine and can be equipped with either a six-speed manual or six-speed automatic. The CC R-Line will have a unique aggressive front bumper, projector fog lamps, new side skirts, tinted tail lights and 18-inch wheels to set it apart from other CCs. Unique stainless steel R-Line scuff plates and paddle shifters
VW hasn't announced the pricing of the 2013 CC R-Line, but the standard model starts at $30,610 with a six-speed manual or 31,710 with automatic, and the standard equipment list is equivalent to the base Sport trim, so expect a price in the low thirties to start.
Source: Motor Authority
Image via Motor Authority